Do you skip stretching because you think you don't burn enough calories? Well, you are not alone. Many believe that stretching isn't exercising at all. There is so much more about extending your body than burning calories. The truth is that great things happen to your body when you stretch. So, stop missing out on the incredible benefits that stretching brings to your health and well-being.
Let's explore the importance of stretching, and why it is as significant as your cardio routine. What is great about a good Barre workout session is that it is a mix of strengthening and stretching moves. Add a few cardio movements and you get it all at once. A very effective combination.
Check out why stretching is so important!
Medical disclosure: The Fit Yourself Barre content is provided for informational purposes only. It is not intended as a substitute for the medical advice of a physician. You should not take any action before consulting with a healthcare professional.
Here Are 5 Remarkable Benefits Of Stretching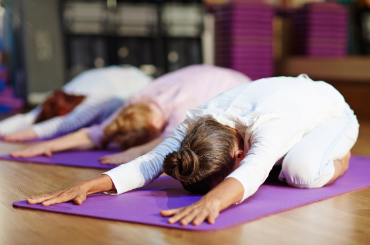 Boost your energy!
Do you feel drowsy? constantly tired? Drink a big glass of water and stretch!!! You'll feel energized, and ready to get started with your day!
When feeling sleepy during the day, just doing a few simple stretches helps increase your stamina. The blood flow to your brain and tissues keeps you alert and full of vitality.
Apart from "waking you up", why is stretching so important?
Lower your stress!
Stretches help reduce anxiety by controlling high blood pressure and insulin resistance. Muscles have expandable receptors that tell your brain about your global level of tension. When they are constantly tense, the brain receives the message that you are stressed out. Stretching loosens the muscles and calms your mind, sending the message to your brain that all is well.
Doing so also decreases and prevents tension headaches that are due to the level of stress. Because of the release of endorphins (natural chemicals that fight pain), stretching before bedtime is a great remedy for a good night's sleep. So take a big breath, stretch, and relax.
Build new muscles!
When you elongate your entire body, you target muscles you never use. You build those new muscles such as the deep muscles of the spine, neck, and deep core stability tissues. That is why ballet dancers increase their muscle control by developing both deep and superficial muscles. Achieving maximum muscle tone. They don't look very muscular like bodybuilders do but they are strong indeed! Moreover, they are strong from within. That is why they are able to keep their balance on their "pointes" because they are able to engage those deep spinal, neck, and core muscles.
Stretching betters your posture!
By keeping the spine in proper alignment, stretching ensures correct posture. Our natural posture adapts to the positions we spend the most time in, like sitting for long hours in an office.
Our shoulders, back, core, and neck shorten. Bad posture is not just a question of having a good physical appearance. There are also health consequences such as headaches, backaches, muscular imbalance, spinal disc degeneration, and trouble breathing. Your lungs cannot widen when compressed by your chest.
Over time, I do not want to get a hunchback because of bad posture. Do you?
Read the related article "16 GOOD POSTURE Health Benefits that are so Important!"
Increase your flexibility!
Flexibility is essential and even more as we age. As you extend your body, you improve your mobility. Agility enables you to perform daily activities comfortably. As I get older, I do wish to be able to bend over as I please!
Just a few minutes of expanding your muscles a day is needed to successfully increase your elasticity. Just less than 5 minutes! I can do this!
Read the related article "How to get more flexible: best 6 tips!"
Keep yourself from injuries!
Improving your overall flexibility can keep you from getting chronic painful diseases such as tendinitis caused by tight muscles and tissues. By improving your range of motion, you reduce the risk of getting injured. The muscles get the nutrients needed to recover faster from injuries. When you stretch, it helps circulate the natural oil called synovial fluid that lubricates your joints and thus protects them from wearing out over time.
Increase your blood circulation!
Shorten muscles shrink the blood vessels keeping them from effectively distributing nutrients to the organs. The slow down of blood circulation also keeps the waste from fully evacuating. As toxins accumulate, knots form and we end up feeling tense and sore.
Lengthening your body increases the blood flow which keeps the blood pressure balanced and the heart from overworking and getting fatigued. It distributes efficiently oxygen that is vital to our major organs and cells.
Here's a great stretching pose to get your blood flowing. It is simple and easy to do: the "Legs up the wall" pose!
Read the related article "The awesome health benefits of the legs up the wall stretch pose"
Improve your physical performance!
Stiffness stops you from giving the best physical performance. Lengthening and opening your muscles and tissues gives you more freedom to move. It prepares your body to exercise.
Tightness also increases the straining of muscles in your back. Elongating furthers your range of motion so it helps to heal back pain, strengthening your muscles.
Reduce your soreness!
Muscle soreness is one symptom of muscle damage induced by exercise. When you expand your body before and after a workout, you relax the muscles and tendons. Beforehand you prepare them for what is to come, increasing the blood flow and oxygen they need. After exercising, you relieve the muscles by detoxifying them, helping them to get rid of the waste accumulated in the tissues, and removing the lactic acid. 
Reduce your cholesterol!
Build-ups from cholesterol don't happen when maintaining healthy blood pressure. Since stretching increases blood circulation, it enables the blood to circulate evenly, keeping the walls of your arteries free of cholesterol build-ups. Physical activity keeps the LDL cholesterol (bad cholesterol) low and raises the HDL (good cholesterol).
Conclusion
It is obvious why stretching is so important after discovering all the health benefits we get from it! It is an essential exercise routine. You warm up your muscles, lubricate your joints, intensify your brain function, improve your mood, increase your energy, and enhance your metabolism. What else??
In one sentence, stretching your body makes you feel so good and prevents you from getting all sorts of diseases. If like myself, you used to think that it was not necessary, I believe you now have changed your mind.
Listen to your body! Some signs that show that you need to stretch are not being able to easily bend to pick up an object, feeling stiff, sore, and feeling constantly tired.
Please feel free to share your experience or opinion on the subject by leaving your comment below.
Also, if you've enjoyed this post, why not pin it for later?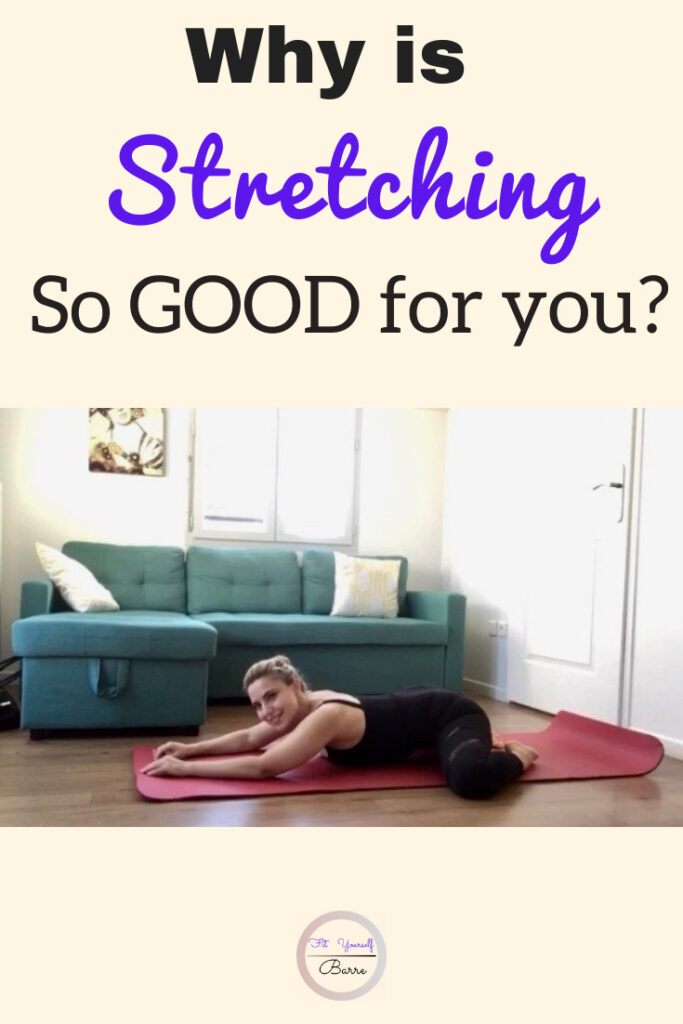 Affiliate disclosure: my content may contain affiliate links. If you use these links to buy something, I make a small commission at NO extra cost to you and that will help me pay for the cost of maintaining my website and writing more helpful content. Thank you for your support!