It is true that we get less flexible as we age but here's another truth: we are NOT ALL EQUAL when it comes to being flexible. That means some kids are more flexible than others due to their genetics. I remember my mother showing me how she could still do an inversion against the wall when she was in her 40s. As a kid, I was naturally flexible, and today I am still more flexible than most of my pairs at my age. However, though it's in my genes, my exercise history plays a big role in staying flexible. In my ballet class group, there are women in their 50s/60s and I have seen their huge progress in increasing their flexibility. You can get more flexible at any age but you've got to practice.
Identify your flexibility needs
How flexible should you be? Are you able to accomplish these basic positions: deep squats, deadlifts, and lunges? It is good to find out where you're the stiffest so that you can improve your mobility range. You should be able to perform everyday living activities without any discomfort.
One day at a time
Becoming more flexible doesn't happen overnight. You've got to give yourself some time. Do not set your expectations too high especially when your goal is to be able to do the middle split. Be reasonable and most importantly, accept your own limitations. Some people have naturally opened hips that enable them to open up more easily. Others have tendons and limbs that have greater elasticity. Your hips may be tighter. Be careful, you do not want to get injured from forcing stretching.
Stretch your entire body
1. Get your blood flowing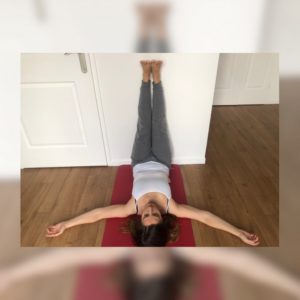 Place a small cushion under your lower back.
Place your feet and legs vertically, up against the wall, bringing your bottom as close as possible to the wall.
Lie down and rest your head and shoulders on the ground.
Stretch and relax your arms at your sides, hands and palms facing up.
Breathe deeply. Hold for 2 minutes.
2. Warm-up
It is important to warm up before a stretch to prevent any injuries.
Do some dynamic stretches: arm circles, jumping jacks, squats, and lunges.
Do not squat deeply. Take it easy. This is just to warm up your muscles and joints.
3. Upper body stretch
(neck, arms, shoulders, and back)
Do not stretch until you feel the pain. Listen to your body.
Neck circles
Tuck your chin to the chest.
Roll your head in a circular motion, gently stretching the muscles and ligaments of the neck.
Overhead side stretch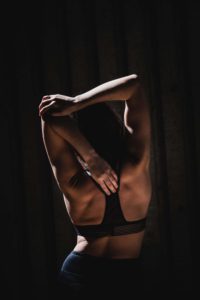 Lift your arms up overhead.
Hold your right wrist or elbow behind your head and pull it to your left side, and stretch your entire left side body.
Repeat the stretch on the other side.
Cat and Cow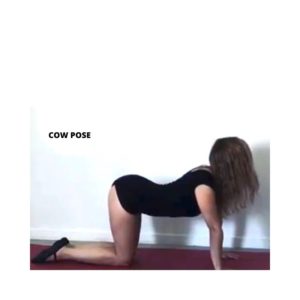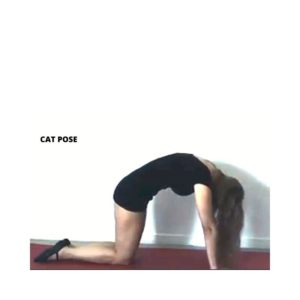 Place yourself on your hands and knees with your hands under your shoulders and your knees below your hips.
The cow pose: inhale, arch your back, lift your chin and chest, and look up.
The cat pose: exhaling, round your back, tuck your chin to the chest, look down to the ground.
Repeat these two poses 5 times each.
5. Lower body stretch (hips, hamstrings, lower back, calves, and ankles).
Child pose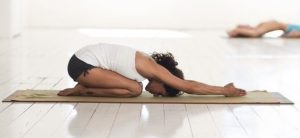 Kneel down, spreading your knees wide apart, your big toes touching. You can also keep your knees and thighs together if you've got tight hips.
Exhale, your back straight, arms extended, palms facing down, slowly bow down, resting your chest on top or between your thighs, your forehead touching the floor.
Let all tensions in your shoulders, back, neck, and arms drain away.
Breathe deeply, eyes closed, and hold for 1 minute.
Back flexion stretch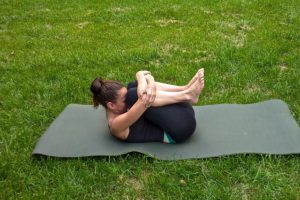 Lie on your back.
Bring and hold both knees to your chest.
Bring your head towards your knees, tucking your chin to the chest.
Hold for 1 minute.
Side lunge stretch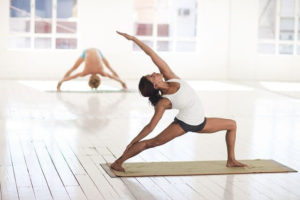 Gently squat down.
Let one leg and arm slide on either side.
Stretch your entire side.
Hold for 30 seconds, repeat on the other side.
Downward-facing dog pose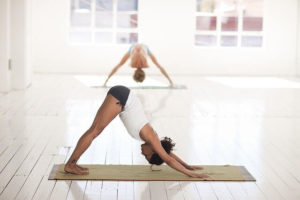 Place yourself on your hands and knees. Arms straight, hands slightly forward ahead of your shoulders, and knees under your hips.
Exhale, slowly lift up your bottom towards the ceiling, gently straightening your legs.
Your back is straight, pushing on your arms. Press and stretch your torso towards your legs.
At first, your heels don't touch the floor but very carefully, try having them touch the ground.
Hold for 30 seconds.
Standing quad stretch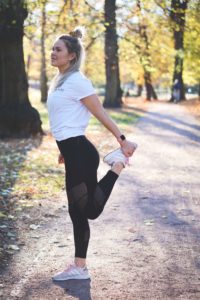 Standing, grab your ankle, and bend your knee back as far as possible.
Repeat 4 times on each side.
Hold 30 seconds.
High lunge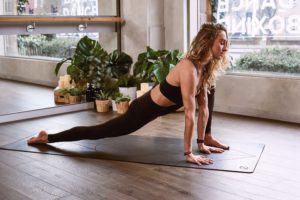 Standing straight, take one step forward, bending your knee.
Let your other leg slide behind.
Lengthen your arms and bring your hands to the floor.
Hold for 30 seconds, repeat on the other side.
Don't forget to breathe!
Breathing deeply relaxes your muscles, your mind, and releases tension. The goal of stretching is to loosen the muscles and increase the mobility of the joints. Conscious breathing while exercising and stretching plays a very important role. Let the oxygen flow through your body. Muscles need oxygen in order to be flexible.
The most common way of stretching is the "hold the pose" stretch but it isn't the only way to expand. You can also move as you stretch. Simply relax and move. Stretching should feel good. Move to the right, to the left, and slightly bend your knees. If you feel good in a certain position, hold still for a few seconds. Let yourself go!
Be steady
It's not by stretching once in a while that you are going to increase your flexibility. You've got to be persistent at it, practicing every day for 10 minutes. As your muscles become more malleable, then you can push a little further. You need to learn how to identify whether it is a good stretch or a bad stretch. A "good stretch" is when you sense the discomfort but it feels good. You feel the tension being released. The "bad stretch" is when it hurts and it stresses you out.
How long does it take?
If you have been active before and you are getting back at it, you will see results after a week. If not, it might take several weeks to see an improvement. Some areas of your body will need more work than others. Your shoulders and back may be tighter than your hips, etc…
Stretching is important!
"Collagen is the most abundant protein in the human body, found in the bones, muscles, skin, and tendons. It is the substance that holds the body together. Collagen forms a scaffold to provide strength and structure."
As we age, not only our collagen diminishes but if our lifestyle is also sedentary, our body adapts to it and complies with it. When our stomach is empty, our brain sends us the message that it's time to eat. We feel hungry. Well, when we feel stiff, it is the signal that we need to move. But unlike hunger, we don't get as excited and motivated when it's time to exercise. That really sucks right?? However, when we start working out regularly, our brain ends up asking for more. Exercising can even become an addiction.
In my article "Why is stretching important?", you can read about all the benefits of becoming more flexible.
Celebrate your progress!
No matter how small your progress is, be proud of yourself! It is beneficial to your overall health. It is totally worth your time.
I would be glad to hear about your experience and your thoughts, please leave your comments below!
Affiliate disclosure: my content may contain affiliate links. If you use these links to buy something, I make a small commission at NO extra cost to you and that will help me pay for the cost of maintaining my website and writing more helpful content. Thank you for your support!