My content may contain affiliate links for products I use and love. What does that mean? It won't cost you anything. If you subscribe or make a purchase after clicking on one of these links, I'll earn some money which will help me pay for the cost of maintaining my website and writing more helpful content. Thank you for your support!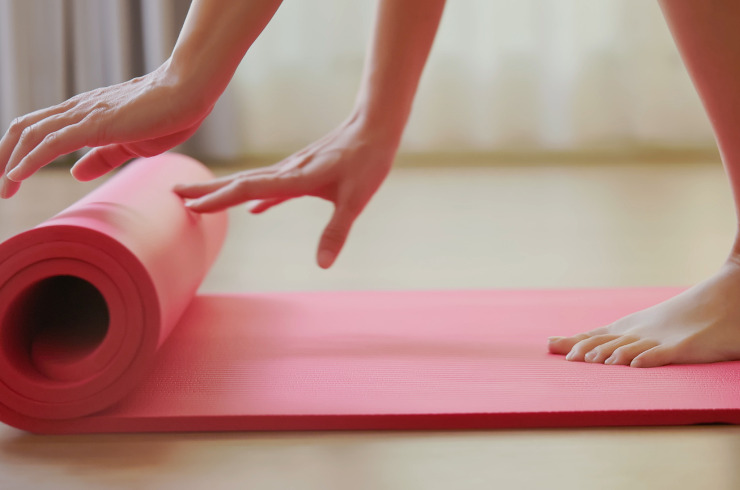 When it comes to working out, self-motivation is key. But how do you stay self-motivated to work out when you're feeling tired or just don't feel like it?
While we all are very excited when we start a new activity such as taking piano lessons or working out, there are days when our motivation drops and we don't feel like learning the piano or exercising at all. There are several reasons why this happens. It might be because our routine got us bored, or we are discouraged because we are not seeing the results expected.
Here are 9 unconventional tips that I apply myself to stay self-driven to exercise. I hope they will encourage you to keep on going no matter what!
Medical disclosure: The Fit Yourself Barre content is provided for informational purposes only. It is not intended as a substitute for the medical advice of a physician. You should not take any action before consulting with a healthcare professional.
How To Stay Self-Motivated To Work Out?
A regular workout routine is a key part of a healthy lifestyle, but it can be difficult to stay motivated to work out on a regular basis. There are a few key things that you can do to stay self-motivated to exercise, including setting bright goals, being flexible, and listening to music. But first, let us explore your fitness motivation, asking yourself a couple of questions.
Why Do You Work Out In The First Place?
First, ask yourself what drives you to work out: do you want to get a beach body? a "dream body"? If you work out to meet someone else ´s beauty standards, you will most likely run out of energy because you simply won't enjoy working out. Above all else, whatever you do, make sure you do it for yourself because it's much more fun! Embrace your body. Confident people accept their body and their whole person. They don't need anyone else's opinion on beauty standards because they believe they are beautiful no matter what society says. Respect and love yourself.
What Does 'Being Fit' Mean To You?
Second, what does 'fit' mean to you? To me, it's a way of life.
Again, being fit does not mean being attractive. Being fit is being healthy and strong to be able to do everyday physical activities. Getting fit is establishing well-balanced nutrition and good fitness habits. It means moving our body on a regular basis to prevent us from diseases such as cancer and keep good mental health. It gives us more energy.
That Said, Here Are 9 Ways That Help Me Stay Self-Motivated To Work Out!
1. Practice positive self-talk
As I mentioned before, one of the reasons our interest declines is that we don't see the results right away. As a consequence, we get so disappointed and we stop believing in ourselves. Our self-confidence diminishes and we no longer believe we can do it. What to do then to boost our self-assurance?
The cherry on the cake is that regular body activity gives us pleasure as well. It satisfies our brains and reduces the perception of pain. Exercising releases chemicals called endorphins that make us feel good, just like sugar or an orgasm lights up our brain. Our bodies and brains end up asking for more!
Also, keep on thinking positively. Often our body is willing but our mind is not. Our body says "I'm healthy, I can do it" but our mind says "No, I can't. It's not working." For each negative thought, think of 3 positive things about yourself. Train your brain to practice positive self-talk. Think about all your daily accomplishments. Be proud of yourself. Applaud your efforts. Cultivate an optimistic mindset by collecting positive experiences and moments throughout your day.
Read the Related article: Best 14 Tips for Gaining Self-confidence | How to Believe in you!
2. Set a routine but be flexible!
A routine is essential when you set objectives. It enables you to successfully achieve your goals. A ritual is a sequence of actions followed regularly. My pattern is that I try to exercise pretty much every day.
On Mondays, I target the upper body.
Tuesdays, I do ballet.
Wednesdays, I do some planks.
Thursdays, it's ballet class again.
Fridays, I do the core.
Saturdays, lower body strength.
Sundays, I rest!!
Additionally, I combine strength and cardio training, focusing on different parts of my body each time.
That sounds like a lot!!! However, I don't let myself get overwhelmed. I set up bright goals and I stay flexible about my routine. That means that if I miss Monday, then I'll do it on the following Sunday. Most importantly, I don't feel guilty if I skip a day.
Change your hours if needed. I usually exercise in the evening but if I can't, I'll exercise in the morning. Also, if you cannot work out for 20 minutes, change it to 5/8 minutes.
3. Experiment with different types of workouts
In order to stay motivated and crush your fitness goals, it's essential to keep things fresh and exciting. One effective way to do this is by experimenting with different types of workouts. By introducing variety into your fitness routine, you not only prevent boredom but also challenge your body in new ways, leading to better results.
4. Set realistic and achievable goals
Setting goals is essential to keep yourself motivated however whether you are a beginner or advanced, maybe you started off with unrealistic goals like 100 squats every day or one-hour workouts. Usually, you will hear "raise the barre" but I say to you "lower the barre" if needed. Rethink what you are able to accomplish at the moment. Examine yourself and move at your own pace. When you get discouraged, what is crucial is to keep going.
So it is OK to reset your goals. It doesn't mean you are lowering your standards because you are not capable. It's not a failure. It means that you know yourself. Do not get discouraged. Raise the barre gradually. As you get more advanced, you will want more challenging objectives to keep you going.
As mentioned earlier, I set bright goals. It is a great way to increase your self-motivation. BRIGHT goals are Specific; Realistic; Timely.
Let me give you an example:
Target a specific part of your body each day. (Upper body, lower body, Core, and Cardio.)
Visualize yourself achieving these goals.
Choose the exercises that you love doing, and that you are excited to work towards.
Incorporate movements you are capable of doing.
My workout sessions do not last more than 25 minutes.
TIP: Customizing your training to your own taste and needs is one of the best moves you can do to keep yourself self-motivated.
5. Treat yourself!
Yes!!! You read it right. Treat yourself after working out. Think about your reward before starting your session. It can be watching your favorite web series with a piece of dark chocolate, a nice cup of coffee or tea, or a healthy snack such as a banana and almonds.
In fact, self-rewards keep us motivated. Treats keep dogs motivated and excited when being tamed to do some special tricks. It is the same for us. Remember that working out should be a hobby more than a chore and you're training to make it so! You're taming yourself without anybody's help. How amazing is that!
6. Congratulate yourself on all your efforts!
How to stay self-motivated is all about where your drive comes from; if your stimulation comes from within and pushes you to achieve personal fulfillment, it can be regarded as a self-kick.
However, if you're driven to meet standards set by someone else and not for your own enjoyment, then you will most likely get quickly unsatisfied.
Plus, the effort and time you are taking right now to read this post shows how self-motivated you are already! It shows that you are able and want to exercise on your own without being told what to do.
Let's barre! Here's an 8-minute workout you can do right now while watching your favorite TV show!
7. Turn on your favorite tunes!
It is backed up by science that music gets you going and stimulates your brain to move. So put on some great cheerful music and have fun!
Read the related article "12 Remarkable Music Effects On Your Workout." 
8. Have someone else work out with you
If you don't like exercising at home alone, find a gym or a friend who may be willing to join you. A friend can also keep you accountable. If you can hire a personal coach, then go ahead!
9. Rest days are important to stay self-motivated
I love rest days because I get to recharge my batteries and keep my motivation to exercise. Be aware that taking at least 2 days off from working out is as crucial as working out itself!
Last thought
Read the related article "Benefits of rest days from working out."
If you're trying to get in shape or just stay healthy, you know how hard it is to keep up a workout routine. You may be feeling unmotivated, or like you're just not seeing results fast enough. But don't give up! I hope these few ideas will help you keep your fitness goals on track.
How do you stay self-motivated? Please don't hesitate to share your experience by leaving your comment below!
Also, if you enjoyed reading this post, why not pin it for later?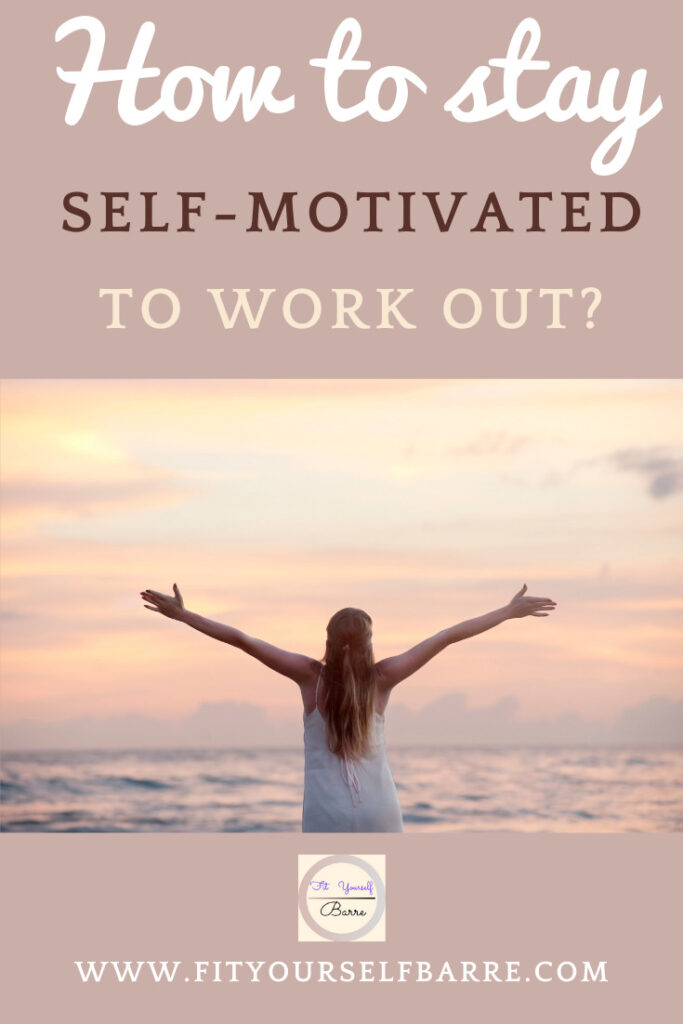 My content may contain affiliate links for products I use and love. What does that mean? It won't cost you anything. If you subscribe or make a purchase after clicking on one of these links, I'll earn some money which will help me pay for the cost of maintaining my website and writing more helpful content. Thank you for your support!