Do you want to tone up multiple lower body muscles at the same time? A squat will do just that for you! It is a compound exercise that strengthens your glutes, quadruples, core and calves all at once. It is one of the most effective exercises you can do. In this article, we will see how ballet plié squats, a simple beginner-friendly movement, can bring a lot to your workout routine.
Check out these 12 benefits of doing ballet plié squats!
What is a Ballet Plié Squat?
Ballet plié squats also called "the ballerina squats", are slightly different from the traditional squats. "Plié" is a French term used in ballet meaning to bend. A ballet squat is a regular squat performed with the feet turned out between 45 up to a 90-degree angle. They are often confused with sumo squats. A sumo squat is a traditional squat with a slightly wider base position. The feet are positioned slightly wider than shoulder-width apart and not so turned out as a plié squat.
Read here the related article " Beginner Ballet Terms"
How to do a Ballet Plié Squat?
Stand straight with your thighs parallel to the ground and your feet wider than shoulder-width apart. About 3 feet apart with your toes turned outward to about 45-60 degree. If you are flexible and can turn out more, do so. But you need to respect your natural turn out. How you do that? It is simple, if you cannot keep your balance then your are turning out too much! You have to feel comfortable and stable on those turned-out feet. Do not try to force the turn out, that is when you will get injured and put too much stress on your joints.
Place your hands on your hips with your feet and toes pointing in the same direction.
Stand tall and engage your core, tucking in your pelvic bone. Do not lean forward and do not bend your lower back.
Bend your knees and push your hips backward till your thighs are parallel to the floor. Make sure the move comes from your hips and not your knees.
Maintain the position for a few seconds.
Return to the standing position, pushing down on the floor.
Here are 12 Top Plié Squats Benefits!
1. Develop your Flexibility and Range of Motion
I can never overemphasize how important stretching is! As we age, we lose bone and muscle mass and, our muscles get stiff.
On top of that, sitting for a long period of time means that our hips get tight, therefore by loosening, opening and, stretching the hips, we substantially prevent hip pain.
In this manner, plié squats are better than traditional squats due to the fact that the wide stance and feet turned outwards opens up your hips, increases your range of motion, and greatly improves your flexibility.
This is very helpful for performing our daily activities as well as a lot of other lower-body moves.
Read here the related article "Why is stretching so important?"
2. Keep your Joints Healthy
Wide-stance plié squats keep your joints happy by strengthening your knees and not only your quads.
3. Improve your Balance
Turnouts create an imbalance that forces you to adapt your position in order to not fall over. This helps support better stability. Our balance diminishes as we age, increasing our chances of falling. Plié workouts are beneficial, enabling you to keep your center of mass over your base of support.
4. Develop a good Posture
Keeping your back straight during ballerina squats compels you to develop and keep a good posture. There are numerous advantages in keeping your body in a proper alignment like better breathing and, back relief.
5. Plié Squats improve your Digestion
When you keep a good posture, you optimize your digestion because there is less squeezing on your stomach, intestines, and liver due to all your internal organs aligning well. That means that the free flow of digestive juices and food is facilitated.
6. Strengthen your Core
Squats are foundational movements that engage multiple muscles and one of the main muscle groups that keeps you stable during the entire exercise is your core. Plié squats make you go the extra mile in developing stronger abs.
7. Plié Squats make you burn Fat Faster!
As mentioned earlier, squats are compound exercises that engage several muscles at the same time. Therefore, they are an effective cardio workout, awesome to burn calories faster. This is so beneficial to manage your weight!
8. A complete lower body strength workout
Again, as a combination move, plié squats help tone your legs, glutes and, thighs all at once.
9. Plié Squats are so practical!
Also, with no equipment and minimal setup required, plié squats are so convenient. Besides doing them at home, I also do them at work (in the bathroom or when no one is watching). You can do them anywhere at any time.
10. Increase your Endurance
It takes several sets of plié squats to feel the burn when you just use your body weight. This is exactly how you optimize your endurance and stamina.
11. Plié Squats target deep ignored muscles!
Practicing barre fitness targets deep ignored muscles. Consequently, there is a bonus for doing plié squats. While regular squats tone up the quads, hamstrings, and glutes, a plié squat exercise will also target your adductors and, inner thighs.
12. Stronger ankles
A lot of exercises in ballet are performed on your toes. Calf-raised plié squats reinforce those ankles and calves, improving your balance and boosting your running speed.
Read related article here: " Why is Barre Fitness so good for men?"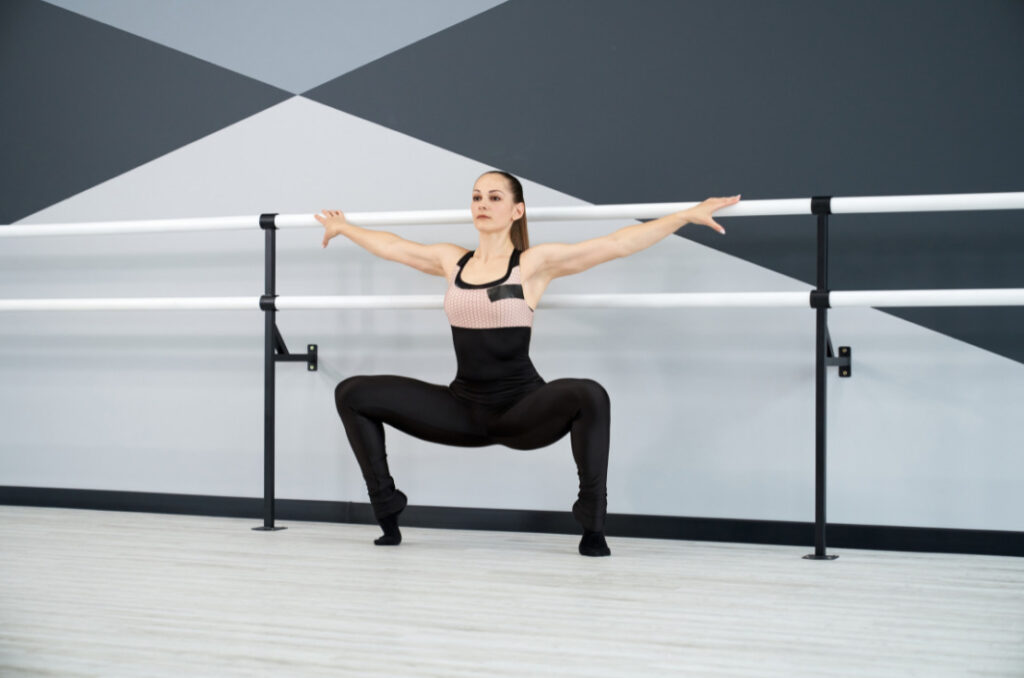 Plié Squats Downsides
Knee joint stress
Completly rotating your hips outward could increase knee joint stress. Accordingly, it is not recommended to turn out your feet so much that they form a straight line. It is better to stick to about 45 to 60 degrees to avoid feeling pressure on the inside of the knee joint.
Limited weight overload
When doing plié squats, you only use the weight of your upper body. Over time, your resistance gets limited and the exercise becomes too easy to perform. You can upgrade your training by introducing more difficult variations. You can carry dumbells for instance or do the pliés on your toes.
Read here the related article " What is Floor Barre fitness? Its awesome benefits!"
Bottom Line
Sitting down, standing up; squats are an essential movement model that we do several times a day. There are so many benefits to doing ballet plié squats. A steady practice of squats will help you to stay fit and get stronger. You can vary the exercises so that you don't get bored doing the same squats and boost up the challenge, adding more bodyweight resistance to your training routine.
You may enjoy here the related article "What is Ballet Barre Fitness?"
Should you have any questions, please leave your comment below!
If you've enjoyed reading this post, why not pin it for later?
Fityourselfbarre is a participant in the Amazon Services LLC Associates Program, an affiliate advertising program designed to provide a means for sites to earn advertising fees by advertising and linking to Amazon.com.