Santa is soon coming to town friends, so why not talk about unusual French Christmas traditions that vary according to region? Every French province has its unique oddities. From weird foods, and bizarre traditions to even ways of speaking. This is also the case when it is time to celebrate the Christmas season in France!
Check out these 18 Unique French Christmas traditions by region
In the past, France was made up of different regions, each with its own monarch and distinctive Christmas customs. You can still find these diverse practices during the Christmas holiday season even today!
1. The shell-like sweet buns in Lille
2. Santa's risky descent in Douai
3. Santa Claus' corrida in Issy-Les-Moulineaux
4. Saint Nicolas Day in Lorraine
5. The advent wreath of Alsace
6. Carol singers on boats in Colmar
7. Father Chalande and the Donuts of Savoie
8. The snails of Bourgogne
9. The waffles of Champagne-Ardenne
10. The Christmas Log of Normandy
11. The Mont St Michel Christmas pilgrimages
12. Brittany's myths and legends
13. Christmas fires of Gironde
14. The Santons of Provence
15. The feast of the 13 desserts
16. The Epiphany of the Pyrenees
17. A tropical Christmas on the Reunion island
18. New Year's gifts to service providers
Read the related post "10 French Lifestyle Tips"
Northern France | Nord-Pas-De-Calais
1. The shell-like sweet buns | Les Coquilles de Noël in Lille
In December, French bakeries in the North sell this type of sweet bun called "brioche" in the shape of shells (coquilles) made with lots of butter, sugar, and raisins. It is an old typical northern tradition dating back to the 16th century. It is also named "pain de Jésus", meaning the bread of Jesus because its shell-like form reminds us of a swaddled baby.
Though the tradition was to eat it for breakfast between December 25 and 31st, today, the people from "Les Hauts-de-France" consume it throughout December.
Yet, there is historical evidence that shows that it didn't use to be a Christmas tradition at all. In fact, a document from 1579 describes how some little cakes in the form of shells were thrown to the people from the top of the belfry tower of Lille during the month of September.
Down the centuries, it became the bun that was eaten for breakfast on December 25 after midnight mass to recall Jesus' presence in the homes.
2. Santa's risky descent in Douai
Since 1966, Santa Claus has slid down the belfry tower of Douai with his elves. It is a very dangerous descent that Santa performs with about 12 other climbers each year. Sadly, in 2015, a 24-year-old man fell about 30 meters down and died while rehearsing for the event.
Parisian Region | Ile-De-France
3. Santa Claus' Corrida
Yes, sounds like a whole lot of fun! A bunch of Santas racing together for 10km (about 6 miles) in Issy-les-Moulineaux, a Parisian suburb town. There is also the elves' race of 1,5km (about 0,8 miles); the snowmen's race of 3km (1,8 miles) and the raindeers' race of 5km ( about 3 miles). Besides, imagine all these teams of red Santas running through the streets… that's uncommon!
Eastern France
4. Saint-Nicolas' Day in Lorraine
On December 6, Saint Nicolas, the patron saint of the province of Lorraine, delivers gifts and sweets to well-behaved kids. He is the protector of the children and of Lorraine.
Saint Nicolas is a big deal not only in Lorraine but also in Alsace, Northern France, Switzerland, Belgium, and Germany. During Saint Nicolas' festival, there are huge parades: a man dressed in red like bishop St. Nicolas passes through the town's streets to hand out treats and small presents to children. The tradition also includes the distribution of clementines and gingerbread.
At the end of the procession, you also find Father Whipper (le Père Fouettard), dressed in a dark robe and carrying a whip to spank naughty children. How nice… remember, it's just a tradition!
Saint Nicolas strangely resembles Santa Claus, don't you think? Indeed, it is believed to be the ancestor of Santa!
Who invented Saint Nicolas?
This thousand of years legend is inspired by a real character, Nicolas of Myre, a bishop born in Turquie between 250 and 270 AC, (minor Asia back then). His mission was to protect children with whom he was kind and giving.
5. The advent wreath of Alsace
In the region of Alsace, it is the tradition, during Advent (4 weeks before Christmas), to light one candle from the Advent wreath each Sunday til December 24. The wreath symbolizes hope and light.
Who is "le père fouettard" (Father whipper)?
Like Saint Nicolas, Father Whipper comes from a real historical figure, Maréchal Hans Von Trotha, originally from the Alsace region. The cruel individual would demand money from both travelers and peasants and steal their possessions and valuables.
Le Pére Fouettard is like the boogeyman and Santa's evil sidekick who is still part of the Christmas tradition in France. He wears a hood and punishes or even kidnaps naughty children! He gives them bad Christmas gifts. In the past, French kids were scared of him but today, Le Père Fouettard is more like part of a funny spooky tale.
6. Carol singers on boats in Colmar
Colmar is a town in the northeastern region of France, Alsace. It is called the Little Venice of Colmar. During the holiday season, people gather on the docks throughout the city to listen to children singing 4 to 5 French Christmas carols to the crowds, wearing red Santa hats, and floating on boats.
7. Father Chalande (Le père Chalande) and the donuts of Savoie
In the past, La Savoie region had Father Chalande, this old man with a long white beard and pointed hat, who came down the chimney to deliver gifts. Another ancestor of Santa Claus…
In Arpitan, an ancient regional language, "chalandas", means "Noël" (Christmas).
A French Christmas fact that still persists today is the savoyard's little Christmas donuts "les rézules" filled with apple sauce that were served at the end of Christmas dinner while waiting for Father Chalande's visit. Sounds sooo good!!
8. The snails of Bourgogne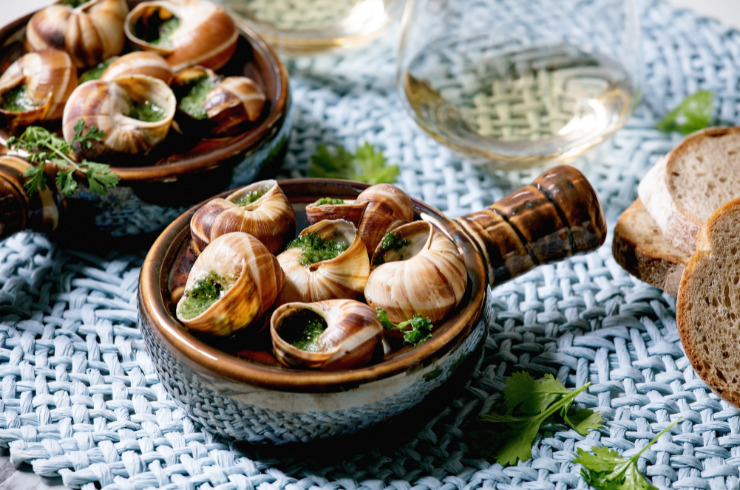 Now, unlike the donuts, this may turn you down. The French are fond of Bourgogne's snails served with its buttery garlic parsley sauce. This is a regional specialty that originated in Bourgogne but that became popular all over France, especially during special events like Christmas. They are served by the dozen as an entrée during the Christmas meal.
Also, in the Bourgogne region, we talk about Father January "père janvier", another ancient version of Santa Claus…
Read the related post "5 Weird French Christmas Food Traditions to try or not!"
9. The waffles of Champagne-Ardenne
On Christmas Eve, and before going to midnight mass, the "Champenois" used to eat waffles and the kids fought for the last "ramédon", the last waffle that was not whole. It is still the custom today!
Western France
10. The Christmas Log of Normandy
Let's go now to Normandy, a French region so beloved by the tourists. In fact, Normandy is famous for its D-Day beaches and its "Mont St. Michel".
If you are familiar with French desserts, you may know about the traditional "buche de noel" which is a delicious favorite French Christmas dessert. However, here it's about another Christmas yule log tradition, known as the Normandy's log.
In Normandy, it is the custom to burn a big log called "the chuquet" in your chimney. The oldest family member then pours out the ashes from last year's Christmas log. While the log is burning, children have to stay away and pray that the piece of wood brings them presents. Meanwhile, the members of the family hide gifts and treats at the foot of the fireplace. So sweet!
Once the log is consumed, the firebrands are kept for next year's Christmas log ritual.
11. The Mont St.Michel Christmas pilgrimages
Mont Saint Michel is a huge tourist attraction. No wonder, it is mesmerizing!
At Christmas, you can follow by foot the locals and the priests for a special steep climbing pilgrimage up to its famous 500-year-old abbey.
12. Brittany's myths and legends
Brittany is known for its Neolithic history and its mystical Arthurian legends, ancient giants, and fairy tales.
Here's one of its Christmas fables: on Christmas night, it is said that you can hear the sound of sunken cities' bells and of standing stones (menhirs) coming out of the ground to drink the springs' water. For this reason, the Bretons had to place yule trimmed with ribbons and sprinkled with blessed water and salt before heading to midnight mass. Creepy!
13. Christmas fires of Gironde
Though Christmas fires are a tradition that is present in several regions of France, this custom is widespread in Gironde. On Christmas Eve, it is customary to light a huge sheaf of straw fire, called the "Halha de Nadau" in downtown villages. Then, the families go around the fields with torches in their hands, while reciting incantations to protect their cultivations and future harvest.
Southern France
14. The "Santons" of Provence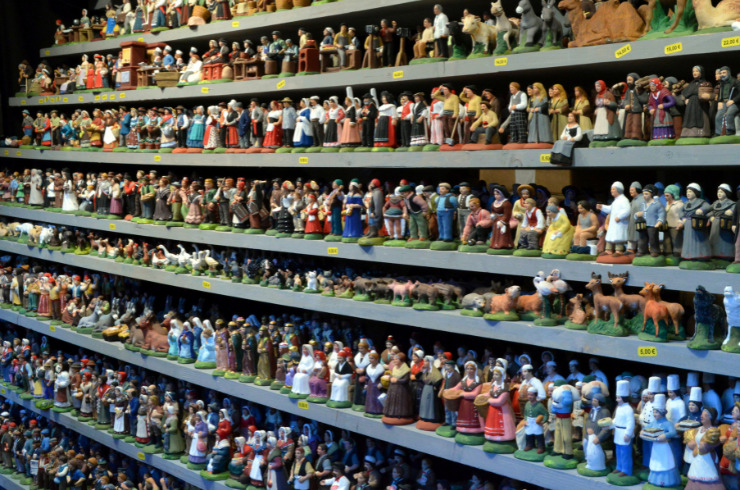 Santons, meaning "small saints" in the regional "provençal" language, are hand-crafted figurines specifically made with the region's unique red dirt since the early 20th century. They are little Christmas clay ornaments that populate the Nativity crib at home. All the familiar people from the village are present, from the baker, and the fisherman, to the farmer and merchant. They represent the ideal Provençal village.
They equally make wonderful French Christmas decorations to offer to your friends and family.
15. The feast of the13 desserts
In Provence as well, it's the tradition to end the Christmas meal with not just one dessert, but 13 of them! 13 symbolizes the number of guests that were present at the sharing of Christ, Jesus' last dinner. The desserts include traditional pastries, nougats, candied and dried fruit. How nice to have so many options!
16. The Epiphany of the Pyrenees
The Pyrenees is a range of mountains which is located in the south of France, bordering Spain. In this region, it is the three wise men who offer gifts on January 6th whereas elsewhere in France, it is Santa Claus who comes on December 25th.
17. A tropical Christmas on the Reunion Island
We celebrate Christmas on the Reunion Island under the branch of a casuarina tree. Indeed, it's in the heart of summer that the celebration takes place around seasonal fruits like lychees, the emblematic Christmas delicacy, passion fruit, mangoes, and pineapples. A typical French Christmas island dinner also consists of rice, curries, rougails, and pei recipes like goose stew, turkey stew, etc.
18. New Year's gifts to service providers
Last but not least, there is this very sweet French Christmas holiday custom called "Les étrennes". It's about giving gifts or money to essential workers to express your thankfulness for the services provided throughout the year. The amount people usually give can range between €5-€50 per family. This tradition surprisingly dates back to Roman times!
Wrap Up on Unique French Christmas Customs
From the recipes that take days to prepare to the beloved pastimes they practice around the dinner table, these traditions make Christmas, unlike any other time of the year.
Christmas time in France is all about being part of an unforgettable cultural experience. From Santa Claus' corrida to the 13 desserts in Provence, this set of French festive holiday traditions makes Christmas unlike any other in the world.
Which tradition surprised you the most? Please share your comments and questions below!
Read the related article "The French Art of Living | 10 keys you need to know!"
Did you enjoy this article? I'd love for you to follow me on Pinterest and pin it for later!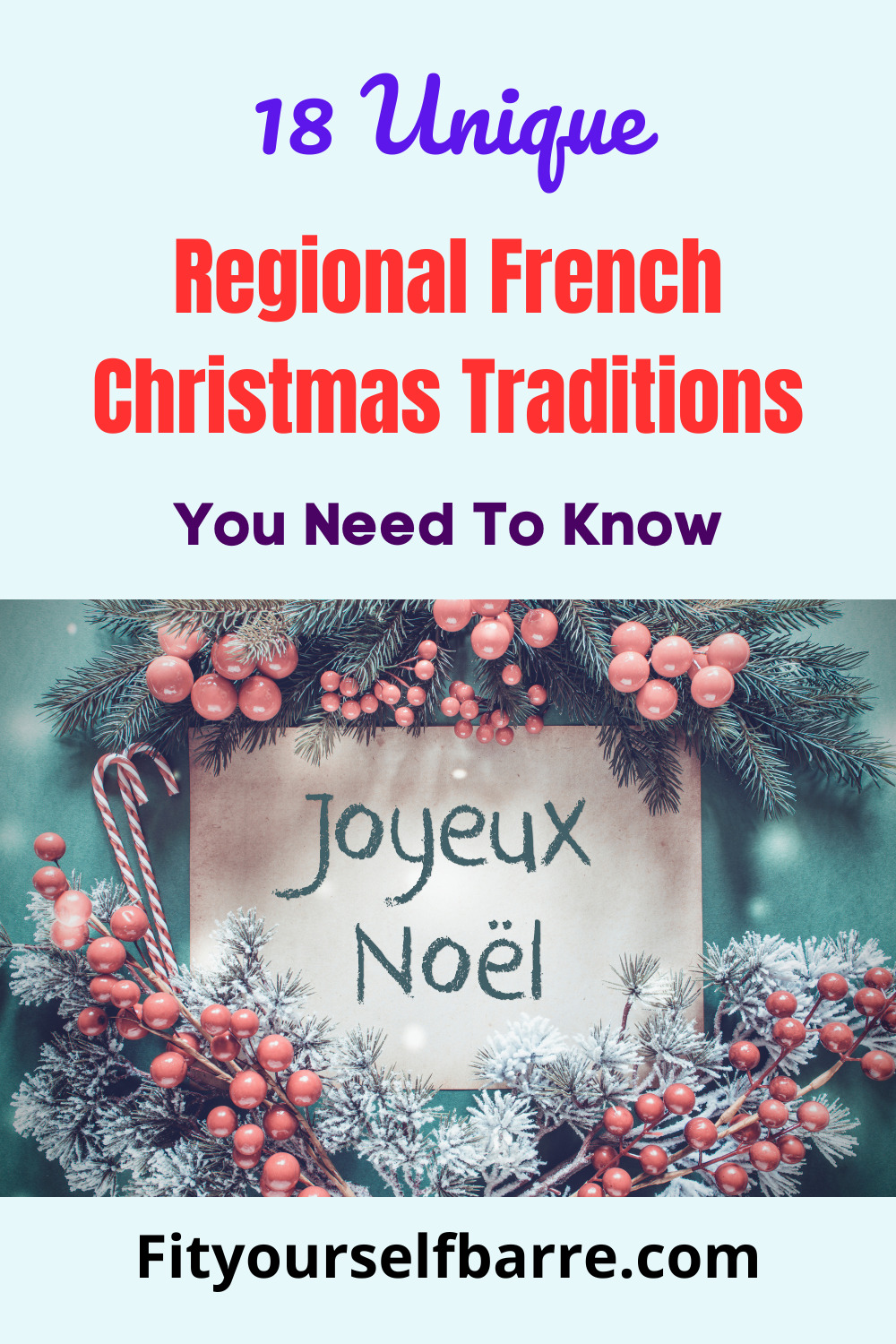 Affiliate disclosure: my content may contain affiliate links. If you use these links to buy something, I make a small commission at NO extra cost to you and that will help me pay for the cost of maintaining my website and writing more helpful content. Thank you for your support!