As a nation famous for its know-how and "joie de vivre", France has always been praised for its unique art of living French style. But what is the French art de vivre actually? In this article, you will discover 10 key elements to help you better understand what makes the French art of living such a special thing. From a passion for fine food to the importance of culture, you will discover a people's strong desire to cultivate the knowledge of their way of life and the pursuit of excellence.
So What Is The French Art Of Living?
In short, the French art of living (art de vivre) is an abstract concept that combines many elements of French culture, history, and high principles across all aspects of life (intellectual, cultural, social gatherings, artistry, etc.). The French express it through their appreciation for beautiful places, the finest food, attention to detail, and excellent artisanal work. All of these things come together to form the French style of living.
Read the related article "10 French Lifestyle Tips to Adopt for a Happier Life!"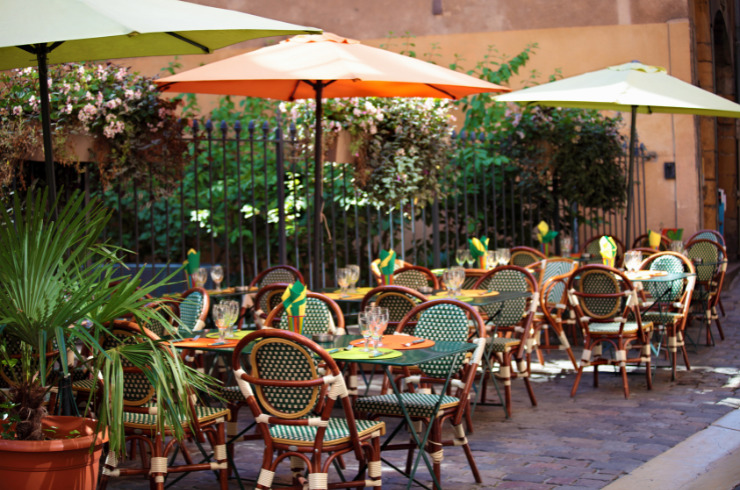 1. French Art And Cultural Heritage
The French have a strong cultural heritage stretching back to the times of Charlemagne, king of the Franks and Holy Roman Emperor who died in 814, making them proud of their major contributions to modern-day Europe.
During the Middle Ages, French courts and monasteries played an essential role in the development of Western culture. This included art, architecture, music, and literature. Later on, from the Renaissance onwards, European countries developed their own cultures as people began using their own languages instead of Latin.
Culture has been flourishing for centuries, leading to the development of French art, literature, music, architecture, and education that are unique to the country. However, with the world becoming more connected and more Anglo-Saxon/American cultural influences coming in, France is now challenged with keeping its traditional culture strong. People are working hard to maintain their customs and habits.
France has shared many amazing contributions to the world's cultural heritage of humanity. Some of the outstanding people in history like Molière, Zola, Hugo, Voltaire, Monet, Rodin, and Chopin have created important works in theatre, literature, poetry, philosophy, painting, sculpture, architecture, and music. Their work remains a part of Europe's culture today. This makes France an exceptionally rich spot for cultural tourists. Visitors can explore its many churches, palaces, châteaux, fortresses, museums, and galleries. There's a lot of history and beauty to discover.
2. French Crafts Legacy
France is home to a lot of special craft skills that are part of a country's culture that we cannot see or touch. Twenty years ago, the government created a list of all these official craftworks ( potters, perfumers, master glassmakers, ceramic artists) that are recognized by UNESCO.
Every year in the spring, The European Days of Crafts celebrates these professions and traditions. The European Heritage Days also highlight the crafts, showing them in historical monuments and museums. Business know-how tourism is becoming more and more popular, especially during the summertime. Millions of visitors come each year to see the excellent craftsmanship of France.
This helps make sure that rare and valuable craftworks expertise doesn't disappear. It also ensures that people can learn these skills.
Crafts that have a long history are well-known in certain places. Aubusson is famous for tapestry making, Vallauris and Limoges are known for ceramics, cutlery comes from Thiers, and Lorraine produces crystal and glassware.
The French mentality about life is also the love for beautiful stones, antique china, and vintage furniture that we buy in garage sales and love to restore.
3. French Etiquette
Though there are books, experts, and even schools still teaching the Art of good manners à la French, many "social conduct codes" now belong to France's past. There are more old clichés than reality, more formality than politeness.
It is interesting though to look back at how the concept of "French etiquette" started to begin with.
A little bit of French history
People started paying attention to being polite and following social rules when, in the modern age, a new class of merchants emerged, called the "bourgeois". The group wanted to show they had good manners, so they stuck to these etiquette rules and now they're part of French culture.
Under Louis XIV, the Sun King, the nobility at the Court of Versailles were expected to follow a set of politeness rules. These regulations focused on how to eat, talk, and behave. These were very strict and strange and were something that regular people didn't know about.
The French Revolution of 1789 contested the etiquette norms associated with royalty and nobility. But after the Revolution, Napoleon I helped bring back the formal rules of behavior in the political world.
By the late 18th century, the wealthy and powerful families (bourgeoisie) were very powerful and influential. Knowing how to act was essential to show you were educated and had good manners. Etiquette was no longer limited to the upper classes, but anyone who wanted to be respected had to know the right way to behave. This included knowing how to use polite language, and table manners, how to act in formal situations, and how to conduct business. It became essential to show off a level of refinement and sophistication.
In the 1800s and 1900s, wealthy French women were taught how to behave in a well-mannered middle-class home through manuals and finishing schools. This included learning about table manners which gained particular importance. Eventually, these ideas became popular among common French people, changing French dining culture.
What's left of these social rules today?
Some of those traditions are still present in the French culture. For instance, there are two ways to say "you" in France: "vous" or "tu".
The first thing that French language students learn about French good conduct are the rules of greeting, using the formal way to say "you" which is "Vous". It is very hard for anglophones to grasp this concept because there is only one way to use "You" in the English language.
"Vous" is the formal way we use to talk to people we don't know. We still use "vous" to converse with our boss… It is a polite way of talking to people but also keeping your distance. Still today, in some posh well-behaved French families, children have to use this formal "you" when talking to their parents. Which I personally view as too much…
Many young French people nowadays think of themselves more as European than French. They usually speak multiple languages and are very welcoming towards people from other countries when they visit. They have made the French culture more accepting and relaxed.
4. The Art Of Eating Well
Yes in France, preparing the gourmet plate is an art form. It's even been named a special UNESCO heritage. French cuisine is world-famous thanks to all the chefs who have exported their cooking skills abroad. You can find delicious pastries, special recipes, exquisite wines, and unusual flavors in each region. Don't miss out on tasting them for a yummy surprise!
French gastronomy is a type of food and mastery that comes from French tradition. It has changed over time and reflects the history of the country, but some of the traditional icons like "the French baguette" got UNESCO Heritage status in 2022.
Read the related article "5 Weird French Christmas Food Traditions to Try or Not!"
5. With Fine Food Comes Excellent Wine
In France, wine is the perfect companion to a delicious meal. It adds flavor and can make food taste even better. You can find vineyards all around the country- Bordeaux, Burgundy, Alsace, the Rhône River, the Loire River, and near the Mediterranean Sea. You can even find vineyards in Paris, on the hill of Montmartre.
6. Haute Couture And Luxury
The French art of living (art de vivre) is also all about luxury goods. People call it "French luxury". It combines culture, lifestyle, and historic luxury brands like Chanel or Dior.
Haute couture meaning "high dressmaking" is a type of fashion that started in Paris in the 1800s. It is of high quality and very detailed craftsmanship.
Yes, "the chic à la française" exports itself and fascinates. But the "French style Chic" has such a powerful effect on tourists that French elegance has become a big cliché… Of course, there are still very elegantly dressed skinny French women wearing red lipstick and perfume… but they are not running in the streets like in the 1950s.
In France, most women often dress casually, in jeans like anywhere else. Many don't wear make-up and have natural hair.
Read the related article "French Women Self-Care Ideas: 14 Top Tips!"
7. Romanticism à la française
Oh, Paris, the "city of love"! France is also often associated with romance, passion, and beauty throughout its history and art.
It is true that with its pastoral landscapes, poetic language, and the sweetness of life, France calls for love. When you think of the country, you can almost feel the romantic allure of its stunning picturesque fields and charming villages.
Yet, the idea of France as a romantic place for lovers comes essentially from people outside of the country. It's been the most visited country in the world for the past 20 years.
F. Scott Fitzgerald and Ernest Hemingway, as one example, were American writers, who moved to Paris and wrote about the city, describing it as both very special and romantic.
Another example is Hollywood films like Amélie and Midnight in Paris and the latest TV series "Emily in Paris" which present the city as a romantic, amazing place.
Indeed, Paris is a beautiful city and a great place to fall in love. But, it also has something a lot of other cities don't – the "Paris Syndrome". This is when tourists are surprised to find that Paris, like any other city, has its own problems, including expensive prices, litter, and pickpockets.
8. The Art Of Conversation
The French way of living is also about culture and wit: we like nurturing a critical mind. We enjoy defending our points of view in lively debates on the terrace around a cup of coffee. We love to engage in deep conversation and exchange thoughts.
That is why magazines like "Philosophie", or "Diplomatie" and, cultural TV shows are still very popular. Many follow political news in "Le Figaro" diligently. You can find young people reading Sartre, a French philosopher on the subway.
9. The Art Of Service
In France, dining culture is about more than just the food. Dinners last for hours. We are talking about 6 meals course: l'apéritif, l'entrée, the main course, salad, cheese, and dessert. Hosts welcome guests with warmth and courtesy and carefully select food and drinks to create a perfect balance.
The dining room is key, and it's where guests feel most respected. The table decoration and its service showcase the French art of receiving guests, an art form that celebrates how enjoyable and beautiful a meal can be.
10. The Taste For Details
When it comes to art and meaning, the only thing that matters is having the skills, doing quality work, and being passionate.
In France, we take care to pay attention to details in many areas. Cooking involves choosing the best ingredients, the right types of wine, and the perfect cheeses to go with them. When it comes to high-end fashion, the top French designers choose only the top-quality materials.
This dedication to detail isn't limited to the fashion and food worlds. We see it in interior design, engineering, and even art.
Last But Not Least
In light of all these elements that make the French Art of living so special, no single thing is uniquely part of the French way of life. Today, this idealized notion of "art de vivre à la française" is a tourist trap and is overused as a marketing asset to attract foreign investors. But it has something real behind it. A people who can enjoy life to its fullest through living in a cultural, artistic, culinary, and social environment that perpetuates traditions and habits.
Most importantly, France is more than just a beautiful romantic country. France is a source of freedom, that of making one's choices and saying what one thinks without fear.
Read the related article "Balneotherapy Cures: Why the French love them so much?"
Did you enjoy this article? Please leave your comments below and if you've liked this article, why not pin it for later?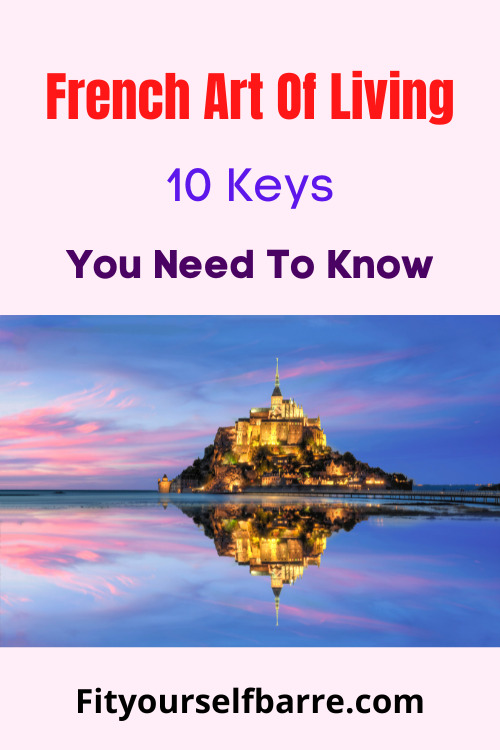 Affiliate disclosure: my content may contain affiliate links. If you use these links to buy something, I make a small commission at NO extra cost to you and that will help me pay for the cost of maintaining my website and writing more helpful content. Thank you for your support!