Ballet dancing is both an art form and a sport. It is a way of expressing music and creativity through extreme physical performance. Therefore, ballerinas need strong legs to execute fast-paced ballet moves.
They put in a lot of hard ballet training to ensure their best performances. That is why they have amazing physical strength and flexibility.
To get stronger legs, ballet dancers have to do additional exercises to strengthen the muscles they need to perform well. Optimal body conditioning is also crucial to prevent injuries.
Medical disclosure: The Fit Yourself Barre content is provided for informational purposes only. It is not intended as a substitute for the medical advice of a physician. You should not take any action before consulting with a healthcare professional.
Read the related article "Is ballet a sport?"
Here are 7 ballerinas' strength training exercises for strong legs
1. Legs Lifts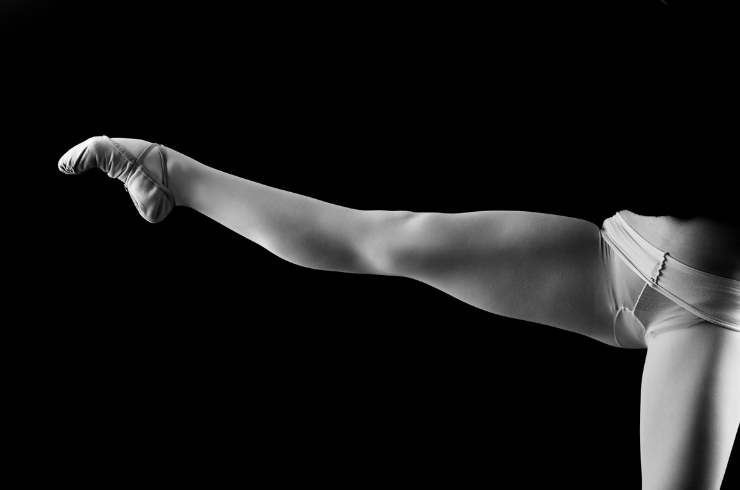 Leg lifts or raises like side extensions are prevalent in ballet training. These strengthen the inner/outer thighs as well as the hamstrings. You can do leg raises while standing with your hands on a chair for support or while lying on your back. Simply lift each leg as high as you can, keeping it straight. Don't forget to tighten your abs.
You can also try to extend and hold your leg up counting to 3. This helps increase balance, strength, and flexibility.
Read the related article "12 top barre workout benefits: a good sweat guaranteed!"
2. Plié Squats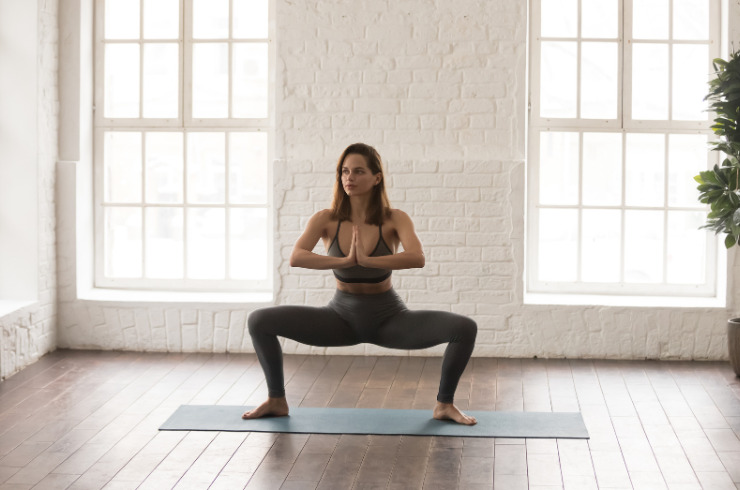 Squats like plié squats are an important part of ballet leg training. They're great for isolating and strengthening your leg muscles, like your quads, calves, thighs, hamstrings, and glutes. Plus, not only do they increase the range of motion in your hips, but also strengthen your entire core.
To do a plié squat, first, stand tall with your feet wider than your shoulder stance and toes turned outwards (about a 45-degree angle). Second, slowly bend your knees, and lower your hips down to knee height while keeping your back straight and your abs tightened. Third, squeeze your glutes while coming to a standing position, still keeping your spine neutral. You can have your arms in front, on your hips, or above your head.
In addition, an extra challenge is to hold the bottom of the squat for 15 seconds. Do this as many times as you like.
Note that if you want to increase your strength, you can hold a weight while you do it.
Read the related article "Ballet plié squats awesome benefits: be happy to squat!"
3. Lunges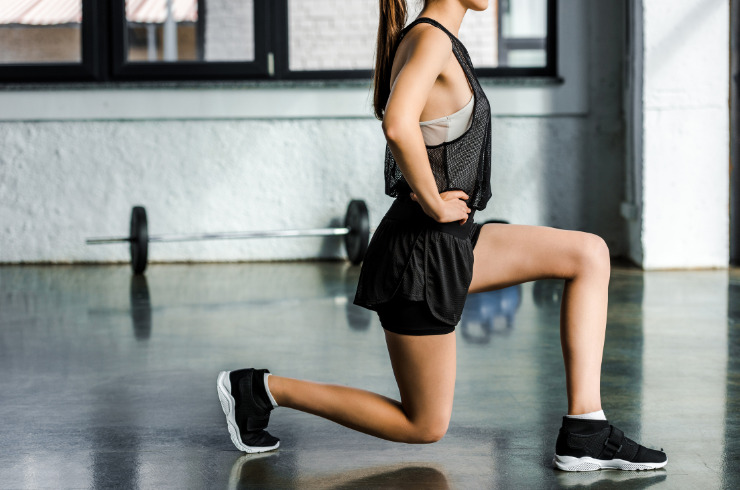 Similarly, squats and lunge exercises are excellent ways to get strong legs for dancing. They help develop your quads, glutes, and hamstrings, the muscles in your upper and lower legs.
Step forward with one foot, your hands on your hips, or reach them up over your head. Bend both knees so they make a 90-degree angle on each. Then, switch sides by putting your other foot in front of you and bend again.
Of course, you can do static lunges or walking lunges. It's up to you!
Also, read the related article "What is ballet barre fitness?"
4. Wall Sits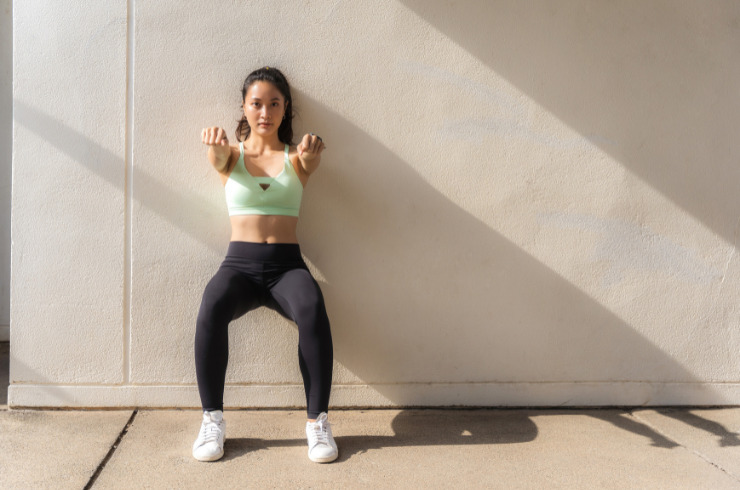 This exercise is a classic and is indeed very effective for strengthening your entire lower body. You just need a wall to do it! Simply sit against the wall with your legs planted forward at a 90-degree angle. Believe me, you start feeling the burn very quickly. First, start holding this position for a few seconds, then as you gain strength, turn the seconds into a few minutes…
Wall-sits are great for dancers as they help build both strong legs and endurance.
Finally, you can do wall sits wherever you want. They help you build your core muscles as well as squatting exercises.
5. Core Exercises are important to get strong legs
Having a strong core is essential for all dancers, as it helps power all their arm and leg movements. Core strength even determines how graceful their motions can be and allows the dancers to maintain proper posture while they perform.
Therefore, ballet dancers learn firsthand that power and energy originate from having a strong core. But for those not familiar with ballet, it may be confusing to understand why strong abdominals help get strong legs…
The best exercises to strengthen the trunk are planks series like full planks, elbow planks, side planking leg lifts, as well as lower abdominal hip lifts (bridge exercises). They are easy abs exercises to do regularly and anywhere for ballet dancers.
Besides, these are only a few of the benefits of having a strong core.
Read the related article "15 strong core health benefits | Why core strength is crucial"
6. Calf Raises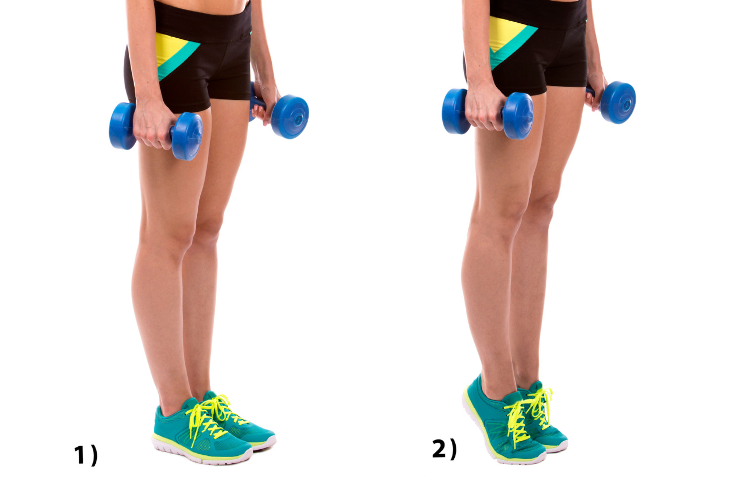 Not only, do ballet dancers need strong calves to perform, but exercising your calves can help reduce the risk of hurting your ankles and shins.
You can do calf raises using a chair, bench, or wall for balance. First, feet parallel, rise on your tiptoes, then slowly lower the heels back down, and repeat 10-15 reps. Finally, make sure to Keep your body in a straight line, head up and shoulders back for good posture.
7. Deadlifts and Hip Thrusts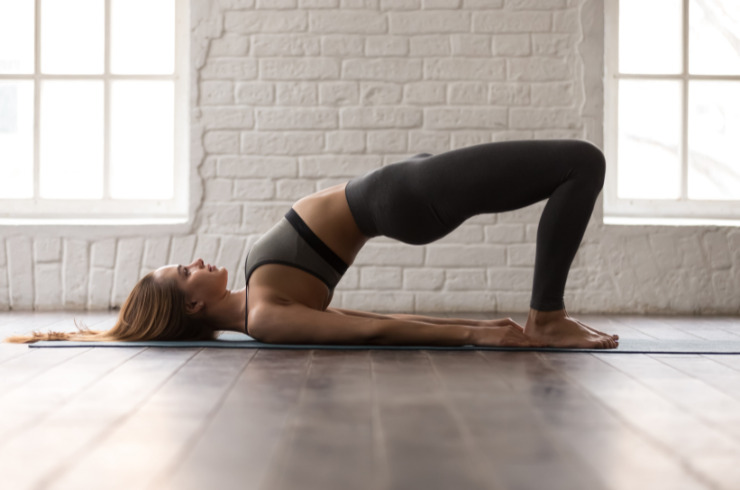 Glute reinforcing exercises like deadlifts and hip raises, help ballet dancers improve their technique, range of motion, good alignment, endurance, and strength. In short, strong glutes give ballerinas the power to perform better and jump higher.
Wrap-Up on How Do Ballerinas Get Strong Legs
In essence, ballet dancers are remarkable athletes who have amazing flexibility and physical strength in their legs. This isn't something that happens naturally though! Not only they must constantly practice their ballet training daily to perfect their art, but also do strengthening exercises to develop powerful legs with less risk of injury.
Note that the exercises mentioned above are basics and just like the professionals, you can get stronger legs, with practice, and persistence.
So, put your dancing shoes on and get ready to build leg strength like dancers do!
Last but not least: read the related article "What is floor barre fitness? Its awesome benefits!"
Did you enjoy this article? I'd love for you to follow me on Pinterest and pin it for later!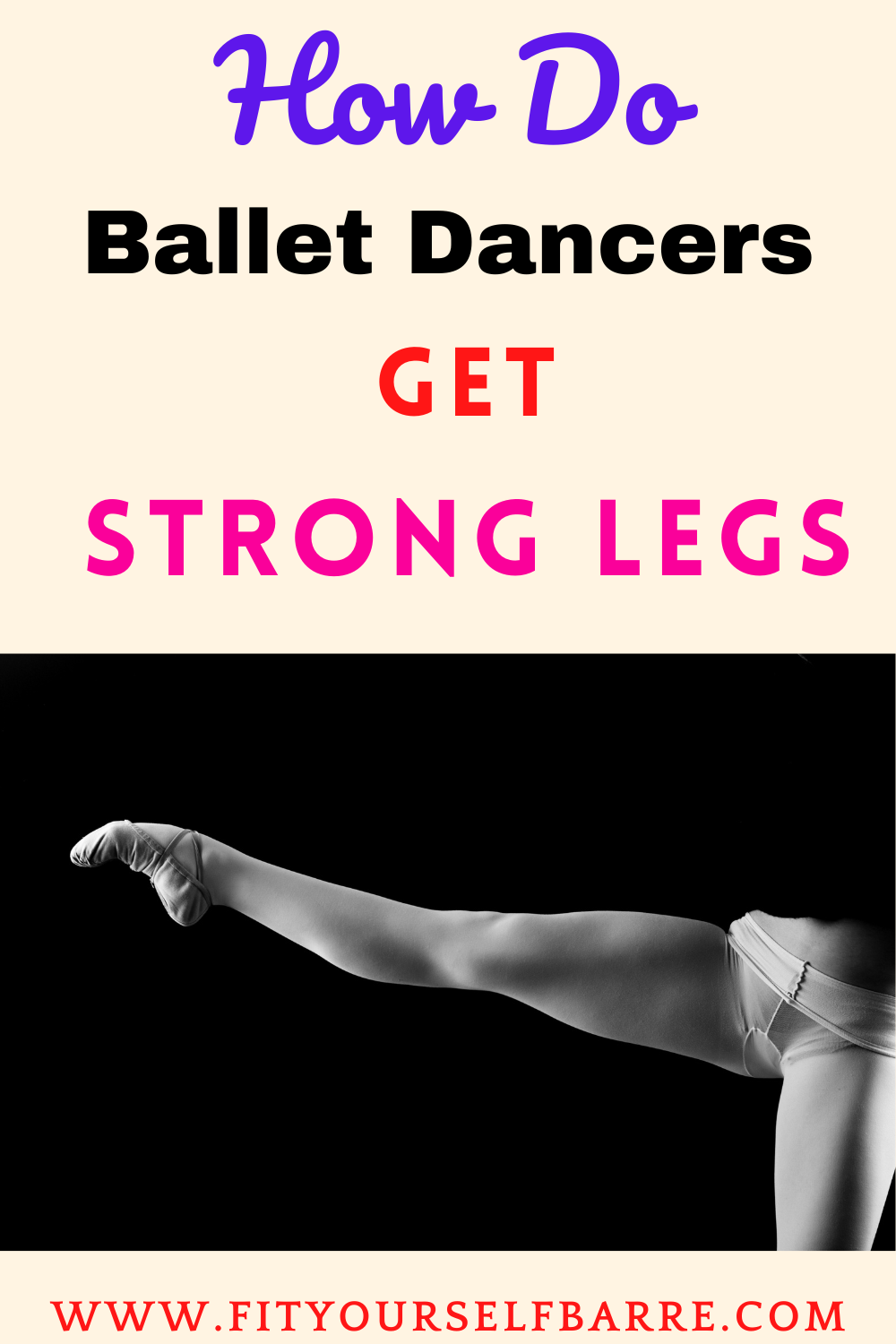 What exercises do you do to gain leg strength? Please share your thoughts and experience below!
Affiliate disclosure: my content may contain affiliate links. If you use these links to buy something, I make a small commission at NO extra cost to you and that will help me pay for the cost of maintaining my website and writing more helpful content. Thank you for your support!