On our last summer vacation, we decided to visit our cousins that live in Saint-Raphael, on the French Riviera in the south of France. It was our second visit there.
Our first trip was not so great because the campground where we stayed was too far away by foot from downtown and the beach. To rent a car was beyond our means and we had to rely on the cousins to drive us to the beach. We ended up going to the beach only twice. We were so bummed.
This time, however, we decided to rent a place with all commodities at walking distance. We had such a wonderful time there!
Our two weeks French Riviera vacation was worth the price! Let me tell you all about it.
Our trip: Paris to Saint-Raphael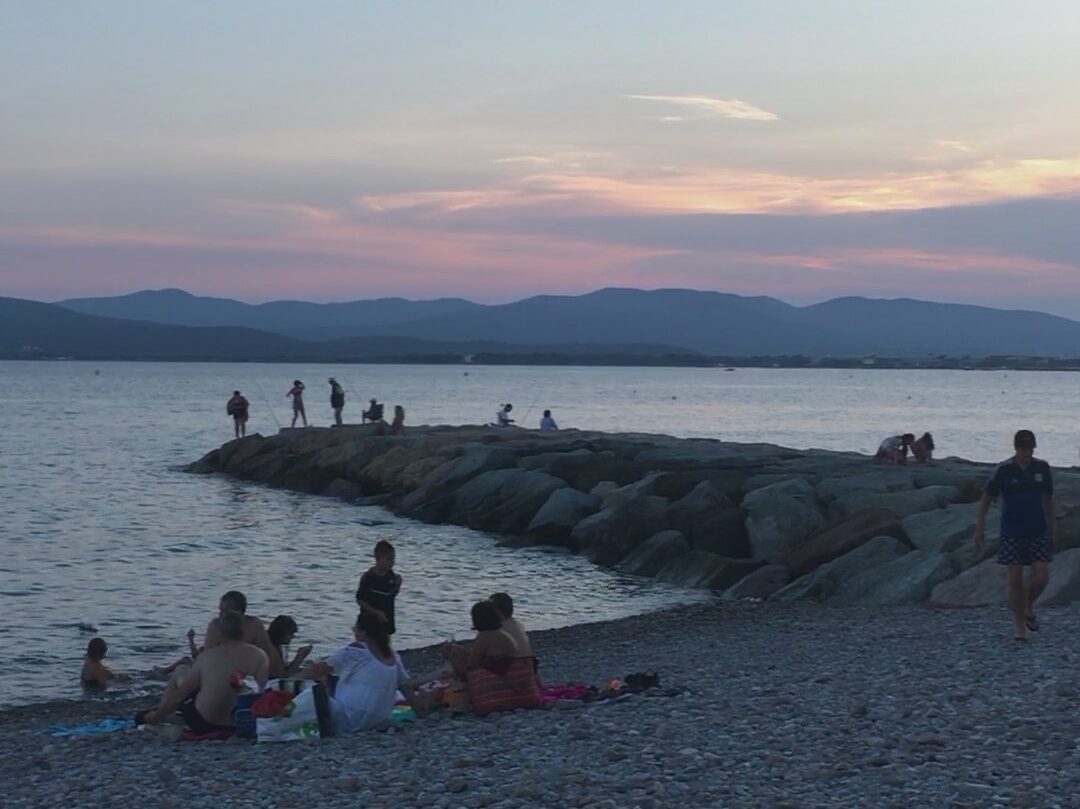 We departed from the Gare du Nord, Paris, on the high-speed train. The travel time is only 5 hours long: It is so fast when compared to the 10-hour drive by car!
I love traveling on the high-speed train and seeing all the breathtaking scenery which France has to offer.
Our cousins met us at the gare Saint-Raphael-Valescure and brought us to our holiday apartment rental that was only 5 minutes away by car.
If you don't have a car, there are buses you can take in town that drive along the coast.
We stayed in a nice 3-bedroom apartment with a view of the sea! This year, I wanted to make things right and pay the price! The rental cost was about 2000 Euros for 14 days. We split the expenses between me, my sister, and my mother. That way it was more affordable…
We had a spacious balcony with a magnificent view of the islet called "Lion de Terre". It was so gorgeous and relaxing to gaze at the sunset each evening. The apartment was on a hill, so the viewing was stunning.
Our stay in Saint-Raphael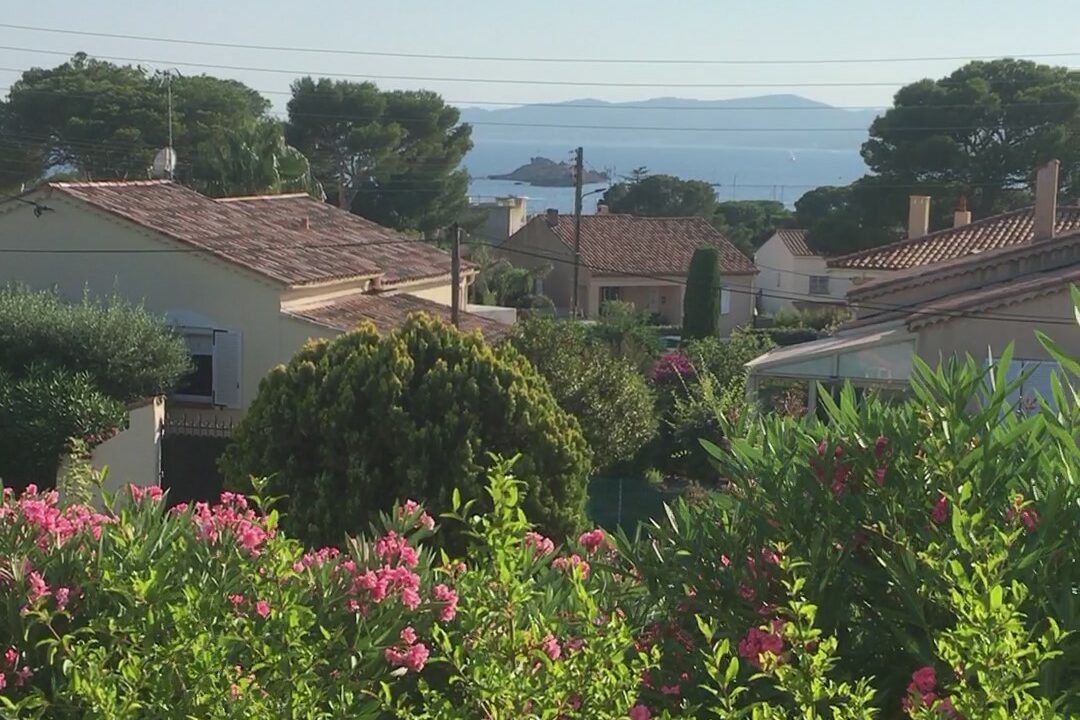 Saint-Raphael is one of the oldest seaside resorts on the beautiful French Mediterranean southeast corner coastline that we call the "French Riviera".
A cool fact: 2000 years ago, the wealthy Romans used to come on vacation there too!
We are lucky that our family lives there. It is a calm town near the shadow of the "Massif de l'Esterel", a red looking volcanic coastal mountain.
It has a small harbor as well as a leisure yacht marina. There are several beaches in between the 2 harbors. We enjoyed walking along the coast and try different beaches. Some were of sand and others of stones.
Some evenings, we would walk from the port of Santa Lucia to downtown St-Raphael (45 min stroll) and enjoy the daily "marché provençal" set up along the shoreline. We found locally-made products such as bar soaps, jewelry, and enjoyed a great ice-cream right next to the city attraction "the big wheel".
Like all seaside resorts in France, St-Raphael has a large number of restaurants, cafés, shops, and narrow streets with old buildings such as its 12th-century church to explore.
Our apartment was situated on the hill located just behind the yachting port of "Santa Lucia"! There was a small shopping mall where we bought our groceries. There was a bakery, a butcher shop, a hairdresser, pubs, and many restaurants! It really is a lovely charming place with a lot of animation going on in the evenings.
From our balcony we could sea the islet "l'îlot du Lion de terre".
The little sea gems: "Les Calanques"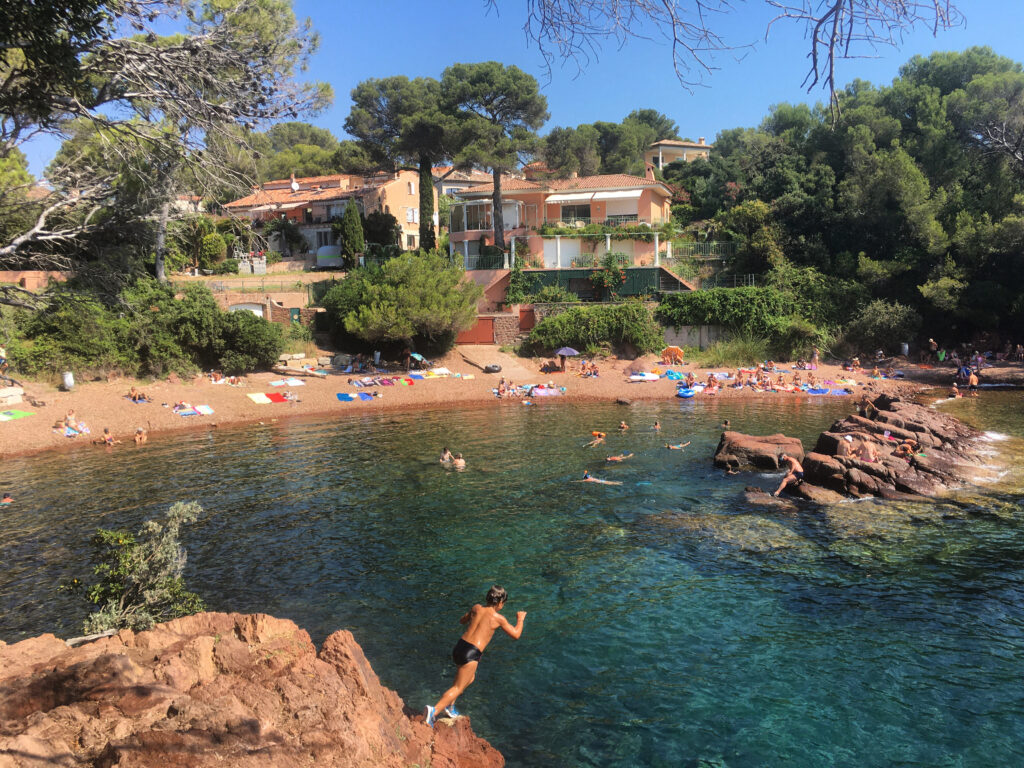 My all-time favorite activity was to hike along the steep red rocky coast sheltering a series of "Calanques", those beautiful hidden stony creeks that I call "little sea gems".
You can take a swim as you stroll through these gorgeous vertical red cliffs that rise out of the sea. You need good shoes and you can't be afraid of heights and steep curves.
I fell in love with the "Calanque du Fournas" for its deep emerald clear water. We would take a swim around and end up in these nuisance-free inlet settings.
Our visit to Saint-Tropez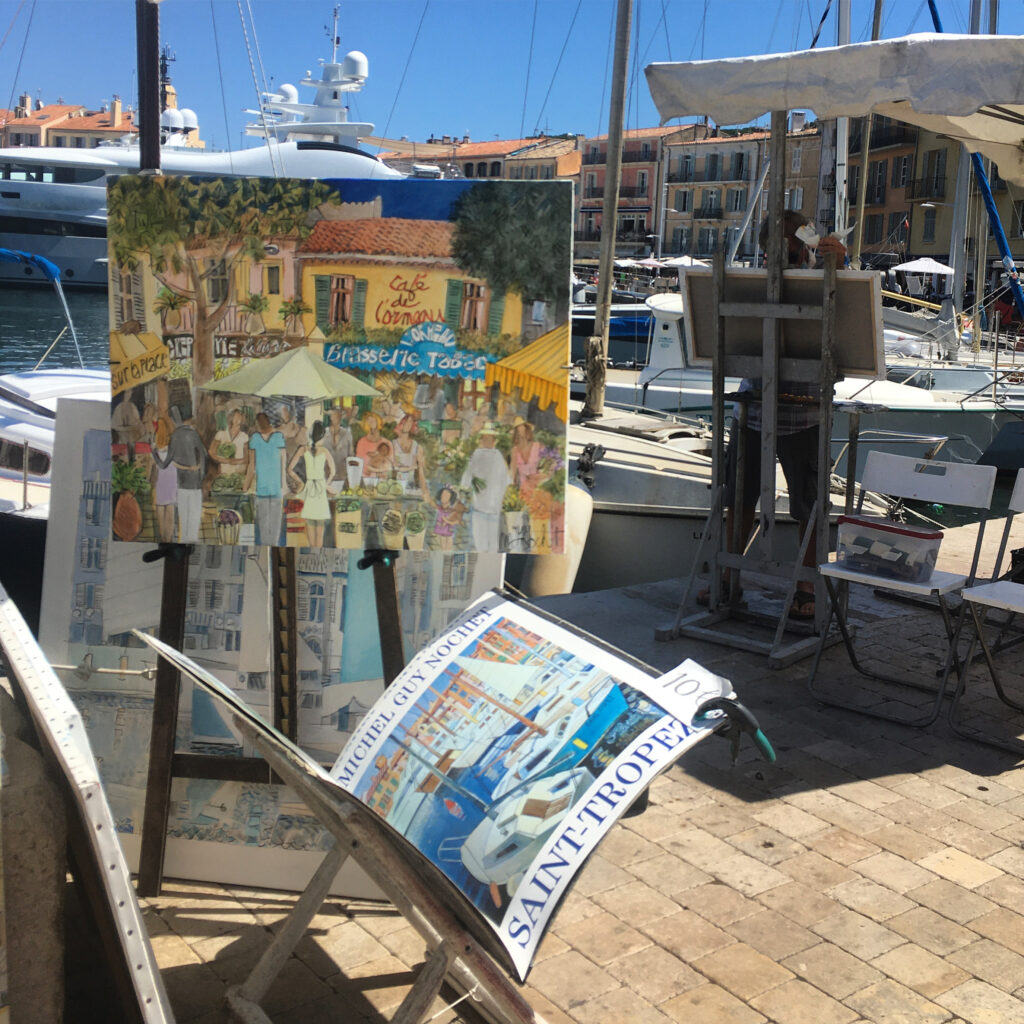 St-Tropez is an internationally famous harbor resort for European and American tourists and jet set. After the war, it became popular because of the inrush of prominent artists (singers, actors) of the French New Wave and the Yé-Yé music movement.
Some of the world's renowned artists like actress Brigitte Bardot set home in St-Tropez.
I was excited to visit St-Tropez though I thought it'd be like any good other tourist trap… to my big surprise, I absolutely fell in love with the place!
I did not expect to be so enchanted. It was so charming and I especially loved the small beaches that were right there, in town.
We took the boat from St. Raphael's harbor. It was a nice 30-minute ride and got to see the gorgeous French Riviera shorelines.
St-Tropez is a typical southern French town with its small picturesque streets, cafés, restaurants, luxury beach houses, and yachts.
We walked the "the Quai Jean Jaurès" and " Quai Frédéric Mistral" along the harbor looking for a place to eat lunch. Several artists were exposing their paintings.
We picked the restaurant "La sardine" situated next to "the Tour du Portalet", a 15th-century defensive tower. What a unique sea view!
Just around the tower, my jaw dropped when I saw this turquoise beach "la plage de la Plonche", surrounded by colorful pastel buildings.
It was early afternoon and it wasn't crowded yet but I didn't dare swim. I didn't know if we were allowed. So I just dangled my feet in the clear water…
We continued our visit through the narrow old streets, shops, and restaurants and unexpectedly, we ended up on the other side of la plage de la Ponche. I had to stop and take a swim! The turquoise water was so tempting and there were just a handful of sunbathers.
St. Tropez is a place to visit for sure! I was mesmerized by such beauty. We were lucky to be there during covid19 when there were fewer tourists.
I recommend spending a least a full day there if you want to visit this glamorized town more thoroughly. We only stayed half-day and didn't get to see the "Citadelle" (fortress).
Final thoughts
If you are planning to travel to France, the French Riviera should be on your bucket list. It is a unique destination with its magnificent picturesque resort towns like Nice, Cannes, Saint-Tropez, Cassis, and Saint-Raphael.
Also, read "10 French Lifestyle tips for a merrier life"
Bon Voyage!
Have you ever been to France? To the French Riviera? Please share your experience and comments below!
Affiliate disclosure: my content may contain affiliate links. If you use these links to buy something, I make a small commission at NO extra cost to you and that will help me pay for the cost of maintaining my website and writing more helpful content. Thank you for your support!