My content may contain affiliate links for products I use and love. What does that mean? It won't cost you anything. If you subscribe or make a purchase after clicking on one of these links, I'll earn some money which will help me pay for the cost of maintaining my website and writing more helpful content. Thank you for your support!
Organic products are booming in the world and France is a pioneer in organic farming. In fact, it is as early as 1959 that the 1st organic group of farmers is founded.
The French have always preserved and protected their cultural identity and quality of life. This is true more than ever today! More and more farmers, conscious about the environment and humans' welfare, are converting their farms into organic production.
This is also the case for the cosmetic industry. While there always have been "ultra-natural" brands such as Yves-Rocher, many companies are now elaborating their organic range.
All these French brands are 100% certified organic cosmetics and made in France.
They offer products that are natural, ethical and ecological. They are all composed of ingredients from organic agriculture and very respectful of nature and humanity.
What is organic farming?
Many still are confused about the difference between "ultra-natural" and "organic" products.
Organic farming is a type of production that has to respect, protect and meet these three requirements:
The respect of the environment
The animal welfare
The biodiversity
Also, in order for a product to be labeled and certified as 100% "organic", it has to comply with the demanding and strict Natural and Organic Charter.
In France "BIO" stands for "ORGANIC" and here are the French labels' logos to look for on organic cosmetic products:
Ecocert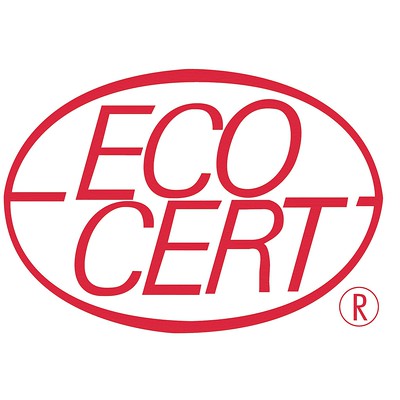 Cosmebio
The cosmetics have to be formulated with:
A minimum of 95% of natural origin and at least 10% organic ingredients.
Free from preservatives, emollients and antiperspirants.
Not tested on animals.
Free from unnecessary and harmful components such as paraben, paraffin, silicone, added sulphates, allergizers and synthetic dyes.
Products are all tested on sensitive skin under dermatological control.
Packaging is eco-friendly.
Did you know that organic plant essences are far more effective that synthetic extracts?
Yes, it makes sense! Organic natural extracts are used in their purest form and therefore are more powerful.
Let's discover 12 French beloved organic cosmetic brands, some you may already be familiar with.
From the "L'Occitane" group
Melvita
Melvita is one of France's very first established organic facial and body beauty care brand (1983). It is a pioneer and an experienced leader in ecological cosmetics.
Its production site is located in Lagorce, a beautiful town and protected environment in the Ardèche department in southern France. For over 30 years now, Melvita has been promoting that the key to preserving the future of the planet is sustainable development and organic farming.
In 2010, it has launched its corporate foundation in favour of the protection of nature. I love the fact that it supports programs such as saving the bees.
Melvita's large selection of products contain 600 organic and natural ingredients that are carefully selected. They are rich in honey and flowers like in its Nectar de miels and Nectar de rose range.
fair trade Organic face and body Argan oil
, which is rich in Omega 6 and vitamin E. It is ideal for protecting skin and hair from premature aging.
Another absolute favorite is this Damask Rose floral water, a super hydrating toner with ancient Damask rose essence which is renowned for its fine fragrance and used to care for dry or delicate skin.
From the "L'Oréal" group
Sanoflore
The "Laboratoire Sanoflore" was founded in 1986 and is an expert in aromatherapy. It finds its inspiration in its very own botanical garden in Gigors-et-Lozeron where more than 350 organically grown aromatic and medicinal plants are farmed and where its essential oils are distilled. The Vercors Regional Natural Park where the production site is situated, is one of Europe's best preserved regions where the air and soil are not polluted.
Sanoflore specializes in essential oils-based aromatherapy products and skin care cosmetics.
Sanoflore Aqua Magnifica
toner formulated with peppermint, floral water and rosemary leaf to cleanse and get rid of impurities. This essence soothes and hydrates your delicate facial skin complexion, leaving your skin visibly radiant.
From The "Léa Nature" group
The Léa Nature group was founded in 1993 and owns several French organic cosmetic brands. From food supplements, organic food, ecological home-care products to beauty care items, Léa Nature has become a specialist in organic, natural and fair trade ecological branding. Here are some of its most popular cosmetic labels.
These brands are members of the "1% for the planet" which gives back 1% of its earnings to environmental projects.
Natessance (1997)
Natessance offers a large range of basic safe hygiene products for everyday use and for the entire family. For instance, you can find a nice choice of products specifically formulated for children.
Check out this great deal of a lot of 4
Natessance Peach Apricot Organic Cosmetic Bio Kids Care Shower Foam!
This fun foam is formulated with wheat proteins, organic chamomile water and organic aloe vera extract. Kids love its smell!
So'Bio étic (2008)
So'bio étic is a complete cosmetic range formulated with some unique ingredients. I love products that stand out among others. I am a fan of the brand's donkey milk range!(Mon Lait d'Ânesse). I love the unique smell.
Donkey milk is known to be rich in essential nutrients and skin soothing properties since very ancient times. Whether it is true or not, history claims that Cleopatra, Queen of Ancient Egypt (69 BC), regularly bathed herself in donkey milk to preserve the beauty of her youthful skin.
I use this scrub SO' BIO ETIC – Mon Lait d'Ânesse – Delicate Scrub Cream with Donkey Milk  to get rid of dead skin cells to enhance my tan in the summer.
So'Bio étic Argan Anti-Age day cream
, formulated with Argan oil and natural hyaluronic acid suitable for mature skin.
Eau Thermale Jonzac (2011)
The French are fond of thermal infused skincare products. The Léa Nature laboratory thus created its very own thermal water enriched skincare beauty range, respecting the physiological balance and integrity of the skin.
Jonzac is a spa town located in southwestern France. Its thermal water is isotonic (its composition is very close to the skin's cells) and rich in minerals. It has been accredited by the "Académie de Médecine" for its efficiency.
Eau de Jonzac rehydrate dermo-cleansing gel is ideal for the daily hygiene of sensitive skin. Beloved by allergy-prone customers, it is 15% rich in Eau Thermale de Jonzac and has anti-irritant and soothing properties.
From the "Nuxe" group
Nuxe Bio
Nuxe is one France's very popular brand and it has been elaborating ultra-natural products since 1990. You may be familiar with its iconic face, hair and body, multi-purpose dry oil "huile prodigieuse" that smells prodigious!
It is in 2008 that Nuxe launched its 100% certified organic cosmetic brand "Nuxe Bio", that offers a range of complete new-generation body care items.
Some of Nuxe Bio's most successful products are its sunscreen lotions.
You will surely enjoy this organic face and body sunscreen lotion, ideal for the whole family, made with 100% mineral filters that offer a protection against UVA and UVB.
Nuxe Bio Beauté Medium-Protection Velvety Lotion SPF 20
is resistant to water, perspiration and non comedogenic (doesn't clog pores). It is formulated with an extract of mango, leaving a delightful odor on the skin.
From the "Kneipp" group
Cattier
Pierre Cattier created his natural clay-based range of products in 1968. In 1987, the brand became organically certified. Cattier does its best to protect the environment at every stage from production to delivery.
As mentioned, Cattier's key ingredient is clay, which properties help purify and smoothe the skin. 3 types of clay are mainly used in the formulas:
Green clay "Montmorillonite" that is rich in potassium, magnesium, zinc and iron oxyde.
Green clay " Illite" which is more gentle and is rich in silice.
White clay "kaolinite" which is also gentler for the skin, most suitable for sensitive skin.
Cattier Green Clay Mask.
Very absorbent, it is suitable for the care of oily skin. It deeply purifies the pores, absorbs and regulates excess sebum.
From the "Laboratoires Jérodia"
Gamarde
The Laboratoires Jérodia (1993) were first specialized in food supplements. It is in 2007 that they established their organic dermocosmetic brand: Gamarde. Just like "Léa Nature" launched its thermal water Jonzac brand, Jérodia elaborated its own formula which marries the health benefits of the super mineralized thermal spring water of Gamarde-les-bains with the rich precious properties of Argan oil.
Gamarde Pre-age day & night cream for mature skin
, is a 2 in 1 anti-age balancing cream that regenerates the skin's cellular activity thanks to the action of chlorophyll.
From "Nature.Cos" group
Couleur Caramel
Couleur Caramel is a natural certified organic make-up brand from Nature.Cos company group (2003).
The brand offers a very large range of anti-allergen makeup products composed of ingredients from organic farming (Shea butter, Damask rose water, Grape seed oil, Blueberry water, Aloe Vera juice…). Most of its products are also Vegan.
high-definition dark circle concealer
that
works wonders!
From the "Provence Nature Développement" group
Florame
Specialized in essential oils, Florame also offers a wide range of beauty and health cosmetics and fragrance. In 1990, Florame settles in Saint-Rémy de Provence, right at the heart of the "Alpilles" natural park, a unique "terroir", where an exceptional diverse essence of medicinal plants grow.
One of its superstar products is the Florame Patchouli Intense Eau de toilette, a top quality fragrance creation with organic essential oils.
Florame Patchouli Intense Eau de toilette
, a top quality fragrance creation with organic essential oils.
It has sensual, exotic, warm and woody notes. (rose, clary sage and patchouli). 
From the "Laboratoire Phyto-Actif"
Bioregena
Founded in 1990, the Laboratoire Phyto actif specializes in food supplements and develops its organic certified brand "Bioregena" that mainly elaborates sun-protection skincare products.
Bioregena organic sun spray kids, SPF 50
, a natural sun protection UVA + UVB, hypoallergenic, formulated with Argan oil that regenerates the skin cells.
Its spray makes it super practical to apply on kids.
From the "Arkopharma" pharmaceutical laboratory
Arkopharma-Plante system
Since 1980, the pharmaceutical manufacturer Arkopharma specializes in natural herbal medicines, food dietary supplements and phyto-therapy. In 2002, it launched its cosmetic brand "Plante system".
Arko Royal Organic Jelly
preparation is recommended as a cure at the beginning of winter to help fight viruses. In fact, this "celestial remedy" produced by bees, enables their queens to live 40 times longer than the other bees!
A must-try for winter!
Organic agriculture is more than a trend
I love organic cosmetics because they are safe for my health and my skin. They also smell natural and authentic. Most importantly, I support the fact that organic farming is more than a trend. It is a production that worries about the wellbeing of humans and cares for our beautiful planet.
So here is a short list of French organic brands that you will enjoy discovering and trying. Brands that are harmless for you and our planet and that smell like French countryside!
Again, let's not forget that organic pure ingredients are more proficient too!
Please, tell me about your overall experience and organic products you like by commenting below!
My content may contain affiliate links for products I use and love. What does that mean? It won't cost you anything. If you subscribe or make a purchase after clicking on one of these links, I'll earn some money which will help me pay for the cost of maintaining my website and writing more helpful content. Thank you for your support!