Don't you think that today leggings would do the job? Why the need to wear leotards? When I went to my first adult ballet class, we all wore yoga leggings with a T-shirt. I wanted to wear a leotard because I thought it was so much more elegant. I remembered my daughter wearing leotards and tights for her ballet class. But I didn't dare, feeling naked, uncomfortable and afraid of the others' look on me. It was a few session later, when the teacher got to know each one of us more, that he dared ask us to buy and wear leotards and tights. He explained why do dancers wear dance leotards without giving all the different reasons you are about to read below.
A little ballet history, what did dancers wear?
Early 17th century: dancers wore their own clothes and heels. Dance was a social court pastime. The women wore long sleeved corset bodices and pannier skirts (see picture below of ballerina Marie-Thérèse de Subligny). Men wore sophisticated brocade coats, short trousers and wigs. Body movement was very difficult when wearing these heavy outfits. The dance steps had to be very simple.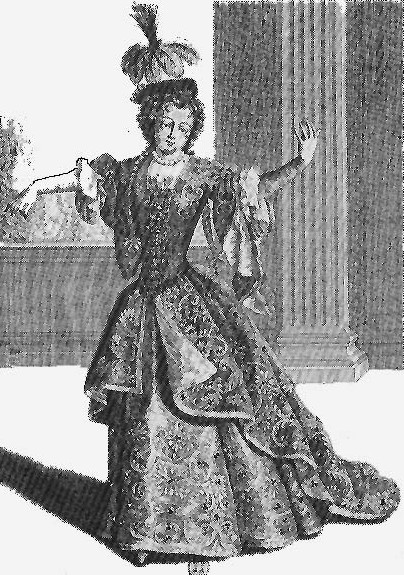 Mid 17th century (1661): the Academie Nationale de Musique et de Danse was established by Louis XIV. Ballet technique started to become very complex with quick beats of the feet and pirouettes. But the dancers' outfits remained still very elaborated. The legs still couldn't be shown. See below King Louis XIV, passionate dancer himself, as Apollo.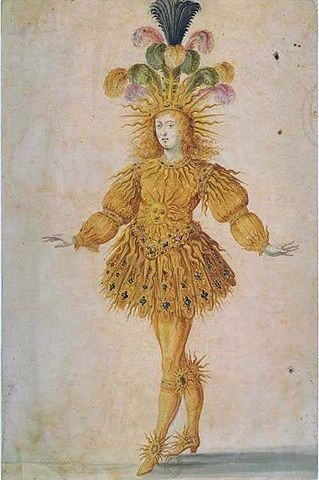 18th century: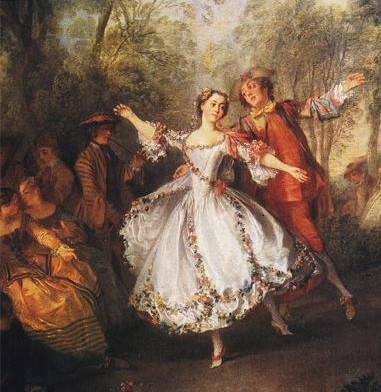 Marie Camargo (see right picture), a French ballerina, started to shorten her skirts to reveal her intricate footwork.
End of 18th century: the French revolution brought significate changes in dance wear. Inspired by Greek models, dresses were light, simple and both fashionable on and off-stage.
Maillot, a costume maker at the Paris opera invented tights. Because of these new fashions, dancers were finally allowed more freedom of body movement and ballet techniques continued to develop.
In 1820, Carlo Blasis, a dance teacher published the technical manual "Trait Elementaire et Pratique de la Danse" in which could be found drawings of himself posing wearing just shorts and ballet shoes. However, he didn't recommend for dancers to only wear shorts because he was afraid they would catch colds but he believed that:
"The dress of dancers should always sit close to the shape, and fit perfectly well, that no part of the outline of the figure may be concealed; care being taken that the dress be not so tight as to confine or embarrass any of his movements or attitudes."

By 1844, the dancers of the Paris Opéra rehearsed in ballet class in the following dance wear:
"The girls are bare-headed and decolletés; their arms are bare, the waist confined in a tight bodice. A very short, very bouffant skirt, made of net or striped muslin, reaches to the knees. Their thighs are chastely hidden under large calico bloomers, impenetrable as a state secret. The men, without neckties, with throats bare, wear short vests of white material and breeches reaching half-way down the leg, fastened at the waist by a leather belt."
However, during the Victorian morality era, there was a return to wearing heavy dance apparel. The poor ballerinas had to rehearse in this attire :
"First came a chemise tied at the waist with a little ribbon; then a little corset, laced up tight; then cotton panties and long cotton stockings fastened with suspenders and over these bloomers; then a white batiste bodice, sleeveless, with a ruffle around the neck and the double tarleton skirts of the tutu. A neat sash around the waist completed the picture."
It was trendy at the time but not very functional and teachers could not fix the technical and physical imperfections.
Early 20th century: the new long 16 layer tutu reaching to the knee granted ballerinas better mobility and we could see the demanding fancy footwork of ballets such as in "swan lake".
It's later that the shorter "powder-puff" tutu was created. It allows the entire legs to be seen.
Dance apparel began to change to what we know today. Imagine how Isadora Duncan (see picture below), early 20th century dancer, surprised her audience when performing in bare feet, without stockings nor tutus? Just in flimsy Greek tunics. She is known as "the mother of modern dance".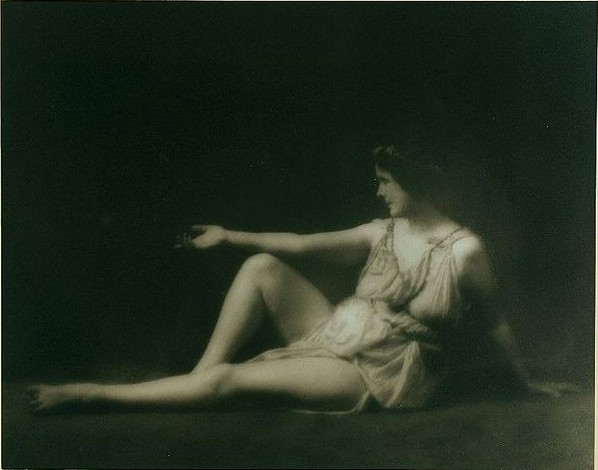 Anna Pavlova started to wear the practical light weighted tunic for her rehearsals.
Revue dancers danced in bare legs while others started wearing the famous one-piece bathing suit adopted by long distance swimmer Annette Kellerman.
For classical ballet dancers, rehearsing bare legs was never a good idea. That is because the muscles need to keep warm to prevent injuries.
Today, dancers wear leotards as well as tights and leg warmers.
A leotard is a skin-tight fitting suit of knitted jersey that covers the body from shoulders to the crotch. There are short sleeves, sleeveless and long sleeves leotards. The unitard, which is a variation of the leotard, covers the legs.
It is the French acrobatic trapeze artist Jules Leotard (see right picture) that invented the leotard in the 19th century. He named it the "maillot" which is a French name for different type of sports shirts and tight-fitting shirts. It's only circa 1886 that the name "leotard" started to be used, years after Leotard's death.
Leotards were mainly used by circus and acrobatic artists and later adopted by professional dancers.
Freedom of movement: the most obvious reason is that dancers that are also considered athletes wear leotards during practice because it allows freedom of gesture and grants greater mobility.
Prevent injury: on the other hand, it helps teachers to see if the dancer has proper hip alignment and correct the posture when needed. If the bones are not aligned, the student might end up forcing the rotation and get injured.
Aesthetics: ballet is an art. While a tutu enhances the visual effect of the movements creating an impression of flight and lightness, wearing skin-tight apparel also reveals the beautiful lines of the human figure and the complexity of the techniques. In ancient Greece, Olympic athletes competed naked to display the beauty of the nude male Greek body.
Dress code today
It is the tradition today for dancers to wear leotards and tights for all the different reasons mentioned above. Also, students must wear the same color leotards, tights ans slippers because group uniformity helps the teacher spot mistakes such as a hip too high or an elbow in the wrong place. When all the dancers look the same, the teacher's eye is not distracted by different colors and textures etc…
Conclusion
Many choreographers choose close-fitting costumes to be worn on stage to accentuate the lines and gestures of the dancers' bodies. For over 300 years, rehearsal outfits have always matched onstage dance wear.
Affiliate disclosure: my content may contain affiliate links. If you use these links to buy something, I make a small commission at NO extra cost to you and that will help me pay for the cost of maintaining my website and writing more helpful content. Thank you for your support!